In a bid to fill more than 800 vacancies in the private sector, the Private Sector Commission (PSC) yesterday organised a job fair to target the unemployed ex-sugar workers and residents of Wales and the surrounding communities and a large number of persons turned out.
Representatives from twenty-two entities including Banks DIH, Gafoors, the  Beharry Group, Bosai Minerals, Roraima Airways, Sterling Products, Amazon Caribbean, Professional Guard Service, the Guyana Police Force and the Ministry of Social Protection huddled in booths under several tents erected at the Patentia Tarmac, West Bank Demerara yesterday morning, to provide information and assist job hunters.
The event, which started at 10am and ran until 3pm, was attended by persons of all ages from various communities around the area.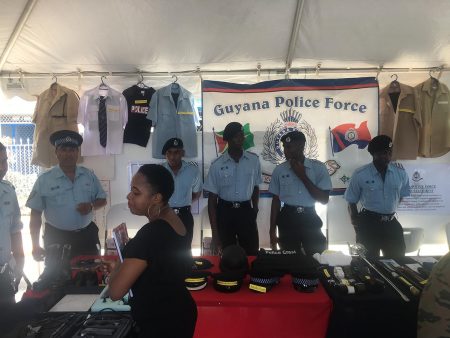 Speaking to Stabroek News, Head of the Private Sector Commission (PSC), Eddie Boyer said that the turnout and response by the residents was overwhelming and they had not expected such a large number of persons to be interested in the fair.
"The jobs listed by the companies total to about 807, and I mean that can go up even higher. Bosai Minerals need 30 drivers, and there's a number of other areas of skilled, semi-skilled and other type of workers that are needed," Boyer said.
He explained that while it is the first fair, they are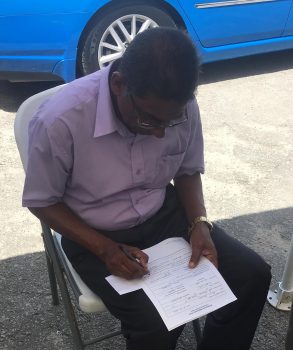 going to try to replicate it throughout the country and set up one at every sugar dependent community where the estates have closed their doors.
"Again, I say we are not advocating for closure and we wished if it didn't have to happen and we still think there's time to turn [it] around and as far as we are concerned closure will bring some hardships. I think the PSC is asking that the health centres to be kept opened because it provides a service to people," Boyer said, while stating that even though they have plans to take the fair to other estates, with Enmore scheduled next, he could not provide specific dates.
In addition to being made aware of the openings which are available at the various companies, residents were also able to fill out applications which will be processed later. A database of the names was also being compiled and will be provided to the Ministry of Social Protection.
"What is evident is that some persons have indicated it is difficult for them to move out of their area and we have accepted that, and I think what we need to do is work with the Government to provide land at this side of the river, from Wales to the [Demerara Harbour] Bridge so we could develop an industrial area, a semi-industrial or industrial and commercial area. And I think that would bring some manufacturing companies this side because they work with where the labour is available," Boyer added.
Despite having to bear the brunt of the afternoon sun, since most of the tents where the businesses were providing information were often filled, unemployed residents of the area and ex-sugar workers crowded the fair.
"I am happy. I am happy because nothing going on in here and around, and everybody applying for jobs but you not getting with anything, so I must commend the private sector for organising this thing, so we could see what jobs they got," one of the participants said.
Another attendee, who indicated he had recently graduated from high school, also expressed similar sentiments.
"It's a good move because since last year I have been trying to get a job. I have applied to places but no response, so I am hoping that this fair actually gets me a job," he said.
However, while the majority of job hunters were pleased to have the opportunity to be able to apply for a job on the spot, many of the ex-sugar workers indicated that the fair still doesn't help them with their current plight.
"We spend we whole life working in sugar and we old now. Who gon want tek we to work? None of these companies gon want to take old people like we," an ex-worker from Wales, who identified himself as Dereck Farley, observed.
He noted that the opportunity is great for the younger generation and commended the PSC and the other stakeholders for hosting the fair, but noted that when it comes to the sugar workers who were made redundant over a year ago from the Wales Estate, the fair does not offer them many opportunities.
Around the Web