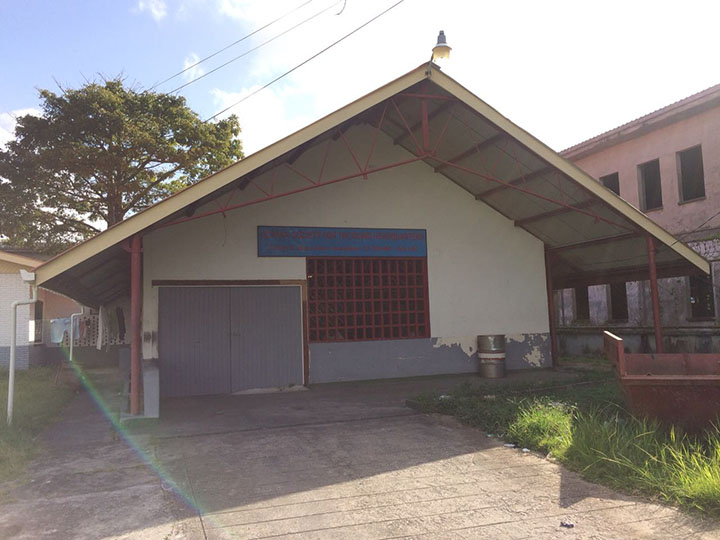 Following a spate of attacks on members of the Guyana Society for the Blind, the association is continuing to call for the permanent placement of armed guards at its head office.
Members believe they have been targeted because of the lack of security personnel at the High Street, Werk-en-Rust, Georgetown head office.
On Tuesday night, bandits stormed the building and attacked several residents before carting off a laptop.
Residents yesterday told Stabroek News that they are still terrified as a result of the attack, which was carried out around 10 pm by four men, one of whom was armed with a gun.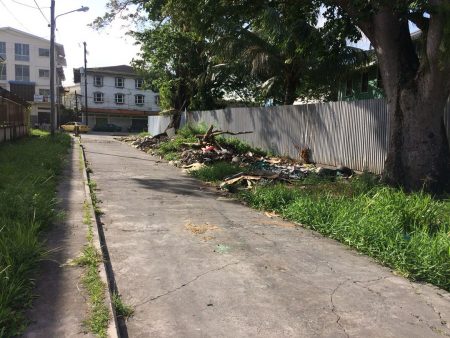 During Stabroek News' visit to the building yesterday, the front door was closed and bolted from the inside.
"We just have to keep the door closed because when it was opened that was when the robbery occurred. It is still traumatising for us because we don't know if they would want to return," said Lavena Powlett, a member who was at the door when Stabroek News visited.
Three resident members, Musa Haynes, Selwin Jacobs and Anthony Robinson, were outside picking up their clothing when the bandits pounced on them.
The three members were escorted into the building, where they were placed to lie on the floor with others as the bandits ran their hands through their pockets in search of valuables.
Police Commander of 'A' Division Marlon Chapman last night told Stabroek News that the police had not been able to arrest anyone for the robbery and noted that investigations were still ongoing.
However, he explained that he has passed down instructions to ranks to carry out frequent checks at the institution during the day and night.
President of the Guyana Society for the Blind Cecil Morris yesterday said that security at the institution is needed now more than ever.
"If the importance of security for us was at 90% a week ago, today it is about 180% more important because of what happened the other night. We don't have much valuables but we still need to be protected," Morris told this newspaper.
"We need an armed guard here. We need to feel safe like any other member of society. We need to be able to have the door open and get fresh air and not keeping it closed and make ourselves inmates," he added.
He stated that they are considering approaching the Ministry of Social Protection for a larger subvention to cover the cost of hiring a private security company to provide armed guard services.
"In the past, we had a guard service but we were unable to keep up with the cost for that service on a small budget and we had to let them go…," the president explained.
In the interim, he said that the society is also considering approaching Minister of Public Security Khemraj Ramjattan for his intervention and to request the establishment of a permanent guard hut and the placement of an armed guard at the society's head office.
Morris pointed out that they also need outdoor lighting in the compound and along the walkway leading to the building.
"At nights, because we have no neighbours, this passageway would be extremely dark. Two lights were installed some years ago but they don't work. We have students that go to UG (University of Guyana) and when they walk in at nights it is very risky… They were robbed on several occasions already," he said.
He added that bandits would rob the members of their pocket change as they make their way into the compound. He also stated that on one occasion an elder resident was robbed of his "Milo and Coffee he had bought from the shop."
"Mr. Ally had just collected his pension and went to the shop to buy his lil stuff [and] while he was returning a bandit attacked him, ripped out his pocket and took away his money," he recounted.
He also stated that homeless persons would at times roam the yard and steal their clothing, forcing members to stay alert and monitor the entering and exits of persons in the compound.
Meanwhile, Powlett called for better treatment of persons with disabilities since she is of the view that they are often forgotten.
"This government needs to step up and put us as a priority. In other Caribbean countries, disabled persons are treated better. We did not ask to be like this, some of us were born this way and some of us developed this disability," she said.
Powlett stated that the need for security at the head office is very vital at this point, while noting that they are afraid the events of Tuesday night recur.
She explained that members have also been attacked by mentally-ill persons. "One time a man came and started to pelt bottles and bricks at us. We had to close the door and wait on the police to come. It is not today we are suffering because of lack of security, it has been going on for a while. And I think it is time we get some help," she stressed.
She, too, like Morris, called for lighting in the area due to the darkness and the risk it poses.
The members also called on the Mayor and City Council to clear the accumulated garbage and monitor the walkway since it is used by persons as a dump site.
Around the Web