Ex-sugar workers from the Wales Estate say that they feel discriminated against as they are yet to receive severance payments, 13 months after the estate's closure and are calling on government to look into their "plight that is making life hard."
"If you got yuh old man giving you brother everything and not giving you anything, how you would feel?" one ex-sugar worker from Wales Estate said, while stating that they have been struggling to live over the last 13 months, since they are yet to receive their severance pay.
Despite the Wales Estate closing its doors more than a year ago, cane cutters, some who have spent more than half of their lives toiling for the sugar industry, told Stabroek News they are still waiting to be paid. Approximately 375 Wales workers have been demanding severance payments but the Guyana Sugar Corporation (GuySuCo) has offered them jobs at the Uitvlugt estate instead.  This matter has also engaged the attention of the court. The former workers have said that the denial of severance is a breach of the Termination of the Employment and Severance Pay Act.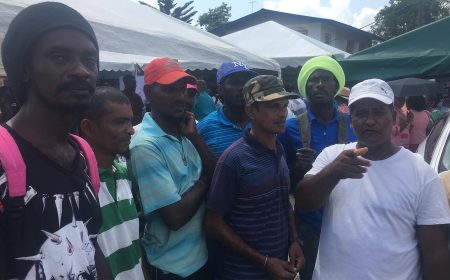 "I working at Wales for 28 years, right, and 2016 the manager call we in at the club and they say that they will close down [Wales] Estate so we won't have a job and if we want to go to Uitvlugt and the majority of we seh we nah want to go there because of the amount of distance, which is 22 miles," Haseer Bacchus recalled.
He explained that since then, despite protesting several times and being informed by the sugar company that they would've been paid their severance they have not "seen one cent of money."
"Since 2016 the Estate close down and in January 2017 they call we and photocopy we documents and say they calculate we money and thing and couple days after they say that they won't pay us. One year and more done, and they nah come and tell we nothing. I got five children and a family to look after and four of them going to school. Right now it rough and me nah find a job since then. Thirteen months now and me ain't find a job, how I gon survive," Bacchus added.
A group of retrenched and "frustrated" workers from the Wales Estate were all huddled in a corner on Wednesday morning at Patentia Tarmac, West Bank Demerara, at a job fair organized by the Private Sector Commission.
Terrence Dunlow, another worker from Wales, who said he had given 18 years to the sugar industry, also expressed his frustration at not being able to find employment in over a year and not receiving his money that he had "worked hard, hard fuh."
Dunlow said that he is finding it difficult to provide for his family and his children who are currently attending secondary school. "They does come in with assignment and I don't have the finance to support it. I don't have money and we were promised severance and can't get the money up to now and we just asking the authorities to look into it," Dunlow said, while stating that according to the information he was able to gather, it is more than 300 cane harvesters from the Wales Estate that are waiting to be paid severance.
"If you got you old man and he giving one brother everything and not giving you anything how you gon feel? Everything he tek he giving one and you not getting anything, tell me how you gon feel? Enmore getting wuk plus money. Me wife looking after me kids and me and I feel soft. Since the age of 16 I at the estate and I is 32 now. Me whole life I spend there and I can't get me money," Floyd Dick said.
When questioned about what they want from the sugar company, the workers related that receiving their overdue severance payment is paramount but they would also like to see GuySuCo putting in an effort to assist them with finding jobs or distributing some of the abundant lands to them so that they can engage in farming activities.
"They got land at the back there and I want land. At least they could give the youngsters a fair chance because these old men got a set of land. I is a young man, I got a business idea in my head and they killing me. This is our house, our country and we must come together and live as one – one people, one nation, one destiny," Andy McPherson, another ex-sugar worker said.
When questioned whether they are of the opinion that the union – Guyana Agricultural and General Workers Union (GAWU) – has been making stringent efforts to ensure that they will be paid, the workers said no.
They pointed out that along with GuySuCo, they have been given the "royal runaround" by GAWU too. "When you ask about the court case they always tell you this day and the next day and the next week. We don't know what's happening with it and we just want we money," one worker said.
Stabroek News tried to contact GAWU but was unable to get a comment from either Union President Komal Chand or the Union.
Around the Web