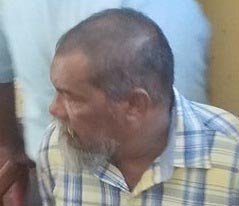 Former murder accused and the owner of D and D Pawn shop Andre Gomes, also known as 'Zipper,' who was wanted last year for questioning by the Customs Anti-Narcotic Unit (CANU), was yesterday charged with the possession of 2.1 pounds of cocaine for trafficking.
Gomes, 57, of Lot 32 Craig Street, Campbellville, was read a charge that stated that on January 20th, at Craig Street, Campbellville, he had 992 grammes (equivalent to 2.1 pounds) of cocaine for trafficking in his possession.
He pleaded not guilty to the charge, which was read to him by Georgetown magistrate Judy Latchman.
CANU prosecutor Konyo Sandiford objected to bail being granted, while stating that the defendant was seen by an eyewitness handling the narcotics.
Attorney Mark Waldron later requested that his client be granted bail, given the fact that he was not a flight risk and that the drugs were not found on his premises.
However, bail was denied and Gomes was remanded to prison.
The matter is set to be called again before Chief Magistrate Ann McLennan on February 13th.
In August, 2017, a wanted bulletin was issued for the accused in relation to a cocaine charge against Naomi Persaud and her 17-year-old grandson.
The two were accused of being in possession of 9.626 kilogrammes of cocaine for trafficking on August 6, at Delph Street, Campbellville. Persaud pleaded guilty to the charge and was sentenced to four years in jail for the crime and fined $21,225,330.
A wanted bulletin in connection with the drug bust was later issued for Gomes after it was discovered that the house was rented in his name.
In May of 2015, Gomes was charged with murdering Nigel Isaacs on May 10, 2015, at Middle Street, Cummingsburg.
Gomes in June, 2015 was freed of the murder charge after Police Prosecutor Bharat Mangru made an application before then Chief Magistrate Priya Sewnarine-Beharry to have the charge withdrawn. He stated that the application was based on the advice from the Director of Public Prosecutions. The court, in addition to this, heard that there was not enough evidence in relation to the matter.
Around the Web