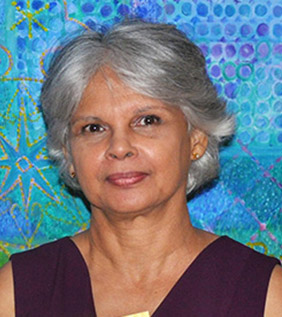 Almost two months after businesswoman and newspaper columnist Ryhaan Shah was carjacked at gunpoint outside of her residence, the police have arrested three persons who were allegedly found in possession of the vehicle, which was repainted.
Shah confirmed to Stabroek News that she positively identified her car yesterday. "..Well, the police were doing their investigation and they came across it. It's at Brickdam and I was told they have three persons and they found the car somewhere in South Ruimveldt," Shah explained.
The Guyana Police Force, in a press release that was issued yesterday, said that the vehicle was found in possession of a man who claimed ownership and even produced a valid registration. "….But investigators had their own suspicions and impounded the vehicle, pending further investigation," the police noted.
Shah's registration, the police added, matched the engine and chassis numbers of the vehicle, which was repainted red.
Among the three suspects are two men who were implicated in a series of armed carjackings, the police said.
They have since been charged and remanded to prison.
They are suspected to be a part of a carjacking ring and will soon face additional charges in court.
Shah was robbed of her car and a quantity of other valuables on November 4th last year, shortly after returning to her Irving Street home from grocery shopping.
"I turned onto my bridge, high daytime with people on the road. Cars were passing up and down. I got out of the car to open the gate because everything was locked and I was not aware of anything," Shah had related to this newspaper.
She had explained that just as she was about to open her gates, an armed bandit grabbed her hands and started to wrestle with her. "…Suddenly there was a guy pushing a gun to me and I had my key in my hand and he's holding my hands so I am thinking that he was after my watch. But then we started scrambling and he has the gun to my head and he pulled the keys out and threw it to another guy who was already by the driver's seat," she had recalled.
The three men then jumped into Shah's Silver-Grey Toyota Allion, PLL 1127, and escaped.
Luckily for Shah, one of her neighbours, who was in the vicinity searching for her lost dog, noticed the attack and went to her aid.
After her neighbour came to her rescue, they went to the Alberttown Police Station, where Shah said she was disappointed again. Shah related that a policeman there explained that he wanted to visit the scene of the crime but did not have any vehicles to take him. As a result, Shah's neighbour had to take the policeman back to the scene and then back to the police station.
In July, 2015, Shah was robbed during an attack outside her Irving Street home.
Around the Web