Farmers who cultivate rice fields between Palmyra and Borlam villages, the area which is popularly called the 'Number 19 Stretch,' at East Coast Berbice, say their crops are in jeopardy due to the disruption of their water supply.
The farmers, who say they will each suffer millions in losses, told Stabroek News that a GuySuCo pump used to channel water into their fields has been shut off.
Several farmers were afraid to go on record, but one explained that the situation has persisted for the past three weeks. He stated that farmers have been trying to pump water from the nearby trenches, however that has not made much of a difference.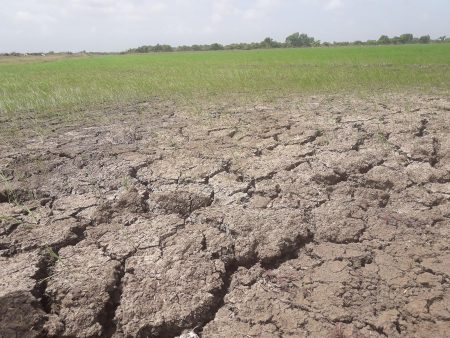 Manoj Singh, 44, of Don Robin Farm, Corentyne, who plants over 60 acres of land, stressed that his rice field is in need of water immediately. "We did getting water from GuySuCo but them lock off the water," he said.
According to the farmer, GuySuCo officials were contacted and they had promised that the pump would have been in operation on Thursday.
Singh further noted that he was told that due to the recent closure of the Rose Hall estate, the National Drainage and Irrigation Authority (NDIA) is now in charge of the pump. He said he made contact with the NDIA and was again told that the pump would have been on by Thursday. However, the situation remained the same up to yesterday.
Singh explained that the entire area, which is over 2,000 acres of rice land, is affected. "We need the water right now," he stressed.
Singh, who has been a rice farmer since his youth, said he is worried about the investment he made into cultivating the acres of land, which he leases from someone. He further stressed that if they do not receive the water immediately, they will incur huge losses. As a result, he said the farmers are pleading with the authorities to assist immediately.
Around the Web