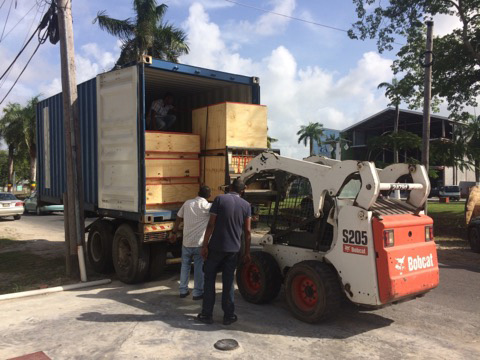 The Surinamese partner in the SleepIn Hotel's stalled casino yesterday packed up half of the gaming machines at the Church Street, Georgetown business, saying that if local partner and manager Clifton Bacchus does not get concrete word on approval in two months, it will take the remainder.
"The people came and asked back for their machines because they say it seems I don't have anything sensible to tell them. It has been two years. We have a [Memorandum of Understanding], promised 300 persons jobs but I haven't started a single thing there," Bacchus lamented when contacted by Stabroek News.
"I can't blame them because they explained that while the machines costing millions of US [United States dollars] are here wasting, a new casino was opened in Suriname to take off the tourists now going there from St. Maarten and other countries ravaged by hurricane," he added.
The Suriname-based Pasha Global Group is Bacchus' partner in the venture.
Bacchus said that his investors have assured him that if in two months he has received positive word on the status of the casino obtaining a licence, they can replace those machines shipped to Suriname.
SleepIn's Carnival Casino had to submit a new application for a licence last year after the Gaming Authority rejected a previous application over a failure to provide documents on the establishment's "financial soundness and capability."
A site visit to the establishment, which was built at a cost of US$20M, was conducted in last August of year.
In December of 2017, Gaming Authority Chairman Roysdale Forde assured that the matter was still pending. He explained that a request was made to the authority for further documents to be submitted and that opportunity was granted. He said that the Authority had granted Bacchus' request and was awaiting the submission of the documents.
Bacchus yesterday said that by next week he expects the last of the requested documents to be submitted and he remains "optimistic that all will be well."
Bacchus, who has another hotel on Church Street and another on Brickdam, had previously explained that in 2014, he signed a Memorandum of Understanding (MoU) with the then Donald Ramotar administration for a licence to operate a casino once he was able to complete construction in line with several specifications.
He explained that as part of the MoU with the previous government, the Guyana Revenue Authority (GRA) authorised the release of the gaming machines ahead of him being granted the casino licence.
In August of 2017, the Authority asked the company and its directors to submit income tax returns for a seven-year period.
Sections 29 A and 32 (1) of the Gambling Prevention Act gives the Gaming Authority the power to request such information. These amendments are contained in the Anti-Money Laundering and Countering the Financing of Terrorism (Amendment) Act, which was assented to by President David Granger on July 10th, 2015.
Section 29 A states, "The Gaming Authority shall assess the integrity of an applicant, partner, shareholder, office holder of an applicant and beneficial owner on the basis of fit and proper criteria on a regular basis and whenever there is a change in ownership or management."
Section 32 (1) also provides for the Gaming Authority to "prescribe the criteria to be considered in assessing the integrity of any person or firm who applies for a licence or a holder of a licence on a regular basis and whenever there is a change in ownership or management."
It was on the basis of these amendments that the Authority requested the income tax information.
Bacchus said that while some persons are advising that he call it quits on the casino and are telling him that they do not believe that he would not be granted the licence, he remains the "eternal optimist."
"Business and life in general are about risks. You cannot be fearful and yet expect a positive outcome. I have been in business for many years and have always tried to keep a positive mindset. Next week we will be submitting the other documents the authority asked for. I remain the eternal optimist," he said with a smile.
"Listen, I can't blame them [investors], you know. I just can't. Suriname has seen a boom in their tourism since the hurricanes last year in the other counties like St Maarten, where a lot of Europeans is go. I am glad they give me two months and, hey, two months is a long time. Something good will happen, man, I want to believe so," he added.
Around the Web