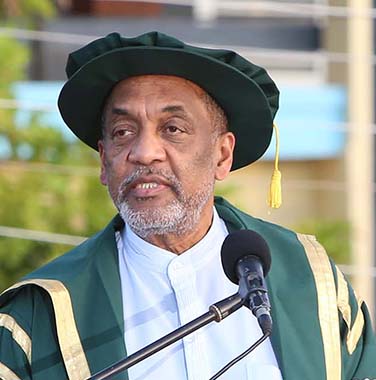 With billions already gained on the stock market from its oil find here, ExxonMobil and its partners can "more than afford" to pay Guyana US$1 billion instead of the US$18 million received as a signing bonus, according to energy expert Dr Vincent Adams, who also strongly believes that the government should go back to the negotiating table for a better deal.
"The company's value increased significantly with Guyana's discovery [in 2015], which is so far accounting for about 20% of the company's total recoverable reserves, putting an additional US$200+ billion on its books—a humongous gain compared to Guyana's US$18 million," Adams, a former long-serving senior official with the US Department of Energy (DoE), told the Sunday Stabroek in an interview from the United States where he lives.
"They can more than afford to give more and, I believe, given that they have said all this talk about being a good corporate company and wanting the best for Guyana, etcetera, that if we go back to them, ask for a review and lay the case [for] why more money is needed, that it would be granted. That is what we should be doing now," the Linden-born Adams added.
Adams said that he is convinced that Exxon can afford more and should be pressed to review the contract and provide a better fiscal regime to the people of Guyana. "ExxonMobil has also paid its stockholders hefty dividends, totaling US$13 billion for 2016, in part because of Guyana's oil now on its book value," he reasoned.
Government has said that it has no current plans to revisit the Production Sharing Agreement signed with the company in 2016 as it remains adamant that it got the best deal in the circumstances.
Minister of Natural Resources Raphael Trotman has said that as ExxonMobil demonstrated to the world its faith in investing in Guyana, the country would reciprocate with its allegiance and public gratitude.
"I am not at present advised that government has any intention of revisiting that agreement," Trotman said when he was asked by this newspaper if government is even mulling revisiting the agreement, given the mounting criticisms.
"As I have said, when we weighed… what we were getting as against what we are not getting, we decided—as I have said before—that this was what we are going to content ourselves with," he added.
But Adams said that government should not project an attitude of being "content with peanuts" and should try to bare the truths of the country's economic quandary as it asks for a review of the deal.
"Some may indeed argue that it is a signed and finished deal, but the fact that you changed and negotiated beforehand and changed elements of the first contract means you can do so again. Look, negotiations between two parties is all about what the two are willing to agree to so that they already set that precedent of changes. Call them to a meeting and lay out that you want a revisiting. I am no lawyer but if you can change the royalty you can change anything else. There was no signing bonus and you got a signing bonus so there can be changes now," he posited.
"The bigger question is whether US$18 million was an adequate signature bonus. I say definitely not, based upon Guyana's leverage as the owner of this vast oil resource, the beating down of doors by major ExxonMobil competitors to get a piece of the action, and the signature bonuses in the hundreds of millions of US dollars and even billions that have become standard globally. Guyana should negotiate for a signature bonus of no less than US$1 Billion which ExxonMobil could, without question, easily afford. Those guys at Exxon know they had a country that was new and had no real idea of these types of negotiations. It is not just the signing bonus. I am talking about here. I mean the general contract. So, they used the leverage they had over us. For us to be saying we are grateful is nonsense because no way Exxon would have pulled out of the deal. When the contract was signed, oil was already discovered, so it was a known that there was oil there. Go back to Exxon, say this country needs some money. We can call it a production bonus now if you like but let's come up with a reasonable sum," he added.
Reasoning that ExxonMobil is not expected to start producing until 2020 and no one knows what the oil market will be then, especially with the competition internationally from the high priority on renewables and shale oil production, Adams said the country needs to see an immediate, tangible return on its resources as Exxon did with its shareholders over the past two years.
With ExxonMobil itself investing heavily in shale oil, just last year sinking US$7 billion in purchasing land and over 6,000 wells in West Texas, Adams asks that government listens to his reasoning and not shut the door on a revisiting of the contract. "No one knows what the economic breakeven price per barrel—maybe US$40 per barrel—will be in 2020, considering the higher cost of producing in such deep waters, and the fact that oil prices dropped to as low as below US$30 per barrel as recent as 2016. This means there is a risk that ExxonMobil may not produce if it is uneconomic due to oil prices being depressed because of the competition from renewables and shale sources; thus, Guyana's revenue stream may be minimal, based upon likely low net profits, especially in the early production phase when ExxonMobil is recovering its capital investment, most likely greater than US$10 billion, and operating costs," he stressed.
"I would therefore aver that Guyana deserves at least US$1 billion in [an] up-front signature bonus for protection against these risks and uncertainties. ExxonMobil has already gained hundreds of billions from this discovery, while Guyana has only received [US]$18 million–a highly one-sided, inequitable, and unfair deal," he added.
Adams said that Guyana's citizenry and its leaders have to re-calibrate what appears to be the mindset that somehow ExxonMobil did the country a favour by discovering oil here and the fear that it might leave if they show toughness in negotiations.
"Trust me, they did not come here to explore because they like us. The only motives driving their oil exploration in Guyana was because of their financial interest, and because of oil potential derived from their most advanced exploration know-how. They made the decision that the risk was well worth taking… they took a risk and it was worth it. The game changed completely when oil was discovered. It is no longer the same thing as per the first agreement. In 2015, there was 100% certainty that oil is there. A contract changes when conditions change and conditions have changed. It galls me to know that Exxon took advantage the way it did," he asserted.
"I'll wager everything I own that there is zero chance that ExxonMobil will walk away under reasonable circumstances; and even if they do in all unlikelihood, there will be a line of their competition tripping over each other to take their place, guaranteed," he added.
Adams, a Linden-born scientist, has served as US Representative and expert to the International Atomic Energy Agency on project management, and technology and standards development for member nations; US Representative on the Nuclear Energy Agency/Organization for Econo-mic Cooperation and Development Task Group and Chairman of two major  International Science & Engineering conferences; and Chairman of the Southern Section of The Air & Waste Management Association – the pre-eminent environmental professional organization with over 10,000 members internationally.
Adams led technology development for protection of ports and highways from terrorist attacks; transformation of nuclear weapons technologies into applications for medicine, greenhouse gas curtailment, and fuel cells; and transformation of two Federal Departments into High Perform-ing Organisations. He developed the equations governing state of the art industrial air pollution control systems; and as a Senior Petroleum Engineer with AMOCO Oil Company, conducted pioneering work to enhance the recovery of oil & gas that is now widely used in the oil industry.
His last job before retiring last year was Deputy Field Manager of the DoE, where he spent 30 years.
Around the Web