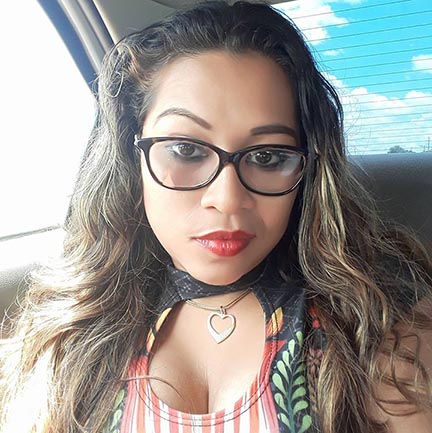 A young mother died yesterday following a head-on collision along the Parfaite Harmonie access road, on the West Bank of Demerara, which left nine other persons injured.
Alana Ramsarran, also known as Alana Da Silva, 25, a trader of Schoonord, West Bank Demerara, died on the spot. She was the lone occupant of a car, PWW 972, when it collided with a Route 42 minibus, BTT 3118, which was heading in the opposite direction around 6.30 am.
The bus, which was driven by Ramkumar Persaud, 42, of Lot 3909 Westminster, Parfaite Harmonie, was loaded with West Bank Demerara residents and reportedly bound for Georgetown at the time of the collision.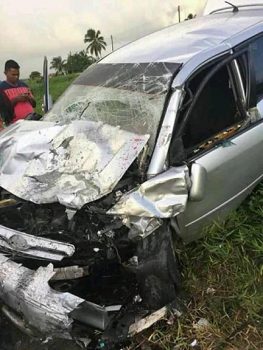 Both of Persaud's legs were broken and he also sustained injuries to his spine and ribs. Up to late yesterday afternoon, doctors were preparing to have him undergo surgery.
The other injured persons were identified as Roneta Paul, 36, of 267 Recht door Zee; Fizan Mohammed, 50, and his son, Safraz Mohammed, 24, of 172 Recht door Zee; Anita Mohan, 32, of Lot 72 Recht door Zee; Alvin Edmond, 59, and his wife Rhonda Edmond, of 206 Schoonord; Leon LaRose, 30, of 206 Onderneeming; and Alisha Allicock, 28, of 167 Onderneeming.
They were all taken to the East Demerara Regional Hospital at Diamond, East Bank Demerara.
Paul and Fizan Mohammed were transferred to the Georgetown Public Hospital (GPH). They were all said to be stable.
At the time of the accident, Sunday Stabroek was told, the minibus was proceeding east along the access road, while the car, which was driven by Ramsarran, was travelling west.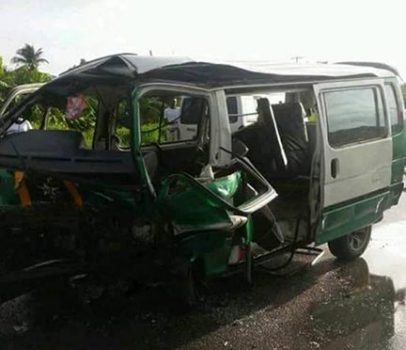 Persaud has told investigators that as they were about to pass each other, the car swerved suddenly into his path and they collided head-on.
When Sunday Stabroek visited the scene yesterday morning, shattered pieces of glass and parts from the badly mangled vehicles were visible on the road. The belongings of some of the passengers were also strewn in the vicinity.
Lalita Persaud, the bus driver's daughter, noted that her father left home for work yesterday morning. Minutes after, the family received a call about the accident.
She said while her father plies the Georgetown to Timehri route, he would normally take "a load" on his way to the city park every morning. "On he way down on the mornings, he does normally pick up a bus load of passengers that would be on the road and going Georgetown," she explained.
"It got to be is town side they did heading when this accident happen," Lalita added.
It is unclear where Ramsarran was heading at the time of her demise.
This newspaper was told by nearby residents that from all indications Ramsarran was not wearing a seat beat. They also said beer bottles and casino tickets were found scattered in her car.
A relation, who asked not to be named, said based on a Facebook post made by Ramsarran on Friday evening, she appeared to have been out drinking. It was not known whether she returned home after the outing or was doing so when the accident occurred.
Ramsarran, who was the mother of a young daughter, is also survived by her parents, siblings and a partner, who all reside in Lethem.
Around the Web