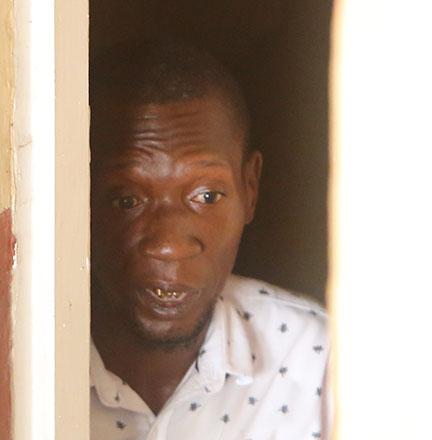 A minibus driver was yesterday granted bail after he denied causing the death of a passenger, who succumbed after an accident last month at the junction of Sheriff Street and the Rupert Craig Highway.
Eustace Gentle, 41, a father of eight of Lot 51 Buxton, East Coast Demerara, is charged with driving minibus BWW 1243 in a manner dangerous to the public on January 11th, 2018, at the Rupert Craig Highway, thereby causing the death of Edith Seaforth.
A not guilty plea was entered by the accused after the charge was read to him by Chief Magistrate Ann McLennan in Georgetown.
Police prosecutor Gordon Mansfield said on the day in question, Gentle, who was the driver of BWW 1243, was proceeding west along the south side of the Rupert Craig Highway, while a truck, GGG 5854, was proceeding east along the northern side of the said highway. The prosecutor added that the truck got a green light at a junction and the driver signaled his intention to turn south and proceeded to do so.
Mansfield added that at that same time, Gentle failed to stop at the traffic light, which showed red, and later collided with the truck. His bus then turned turtle several times, causing several passengers to suffer injuries. The passengers, including Seaforth, were then taken to the Georgetown Public Hospital (GPH).
Seaforth sustained injuries to her body and head and was later admitted to the hospital.
Mansfield noted that the now deceased woman was later discharged from the GPH but was later readmitted to Dr Balwant Singh's Hospital, where she later died.
The prosecutor made no objection to bail being granted but requested that it be substantial as he noted that a life was lost.
The defendant's attorney, George Thomas, later requested that his client be granted reasonable bail. He noted that his client suffered three broken ribs, a broken shoulder, and injuries to his head, face and hip. According to the attorney his client has assisted the relatives of the deceased with funeral arrangements and has no difficulty rendering further assistance to the family.
Gentle was later granted $500,000 bail by the Chief Magistrate and ordered to report to the Kitty Police Station to the officer-in-charge. The defendant also heard that his driver's licence will be suspended until the completion of his trial.
The matter was then adjourned until February 26th.
Stabroek News previously reported that some 16 persons were said to have been injured as a result of the accident.
Around the Web