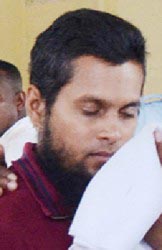 The Muslim Scholar rape case is expected to be heard by Magistrate Alex Moore on February 22 and the mother of three of the complainants on Saturday appealed for the continuous delays in having the matter referred to the High Court for trial to end.
"I hope that when it call up, it go to the High Court", the frustrated woman told Stabroek News while reiterating that the delays are unfair to her sons and the other complainants who have to continuously relive the trauma while the suspect, Nezaam Ali goes about life as usual.
Magistrate Moore had previously committed Ali to stand trial but after it was discovered last year that important documents were missing from the file he was instructed by the Director of Public Prosecutions (DPP) to reopen the matter.
Moore who now presides in Berbice however had not appeared on two dates previously set and the matter had to be deferred.
Ali of 268 Section 'C' 5 South Turkeyen, was charged in 2012 with raping nine boys. The charges alleged that between December, 2011 and January, 2012, Ali, being a teacher attached to the Turkeyen Masjid, engaged in sexual activity with the children, abusing a position of trust. He was placed on a total of $1,300,000 bail.
The allegations of abuse first came to light when the Child Care and Protection Agency (CC&PA) received an anonymous tip and officials there began an investigation that led them to the boys, who were then between the ages of four and ten.
The police were informed of the situation and after the boys were examined, Ali, who was employed with the Central Islamic Organisation of Guyana (CIOG), was arrested, released on station bail and subsequently charged. Ali was also sent on leave, pending the outcome of the case.
Ali was committed to stand trial in 2014 but shortly after, his lawyer, Nigel Hughes, filed an action in the High Court to have the committal overturned. However, this was rejected by the court.
The mother of the three boys, who is also a member of the Muslim religion yesterday expressed hope that when Ali is recommitted to the High Court that the matter would be heard in a timely manner given all the delays and the time that had pass. "Is since 2014, a judge shoulda hear this matter. We are now in 2018. I am begging that I get an early trial", she stressed.
Around the Web