Residents of Hugh Ghanie Park, in Cummings Lodge, East Coast Demerara, say they are "fed up" of the deplorable community road and are calling on the authorities to address the neglected area.
"Drive, walk or ride through this area and if you can find about 10 feet of road that is smooth and you can drive properly on then I would call you a liar. The whole road, the entire thing, from start to finish and back bad. It's so terrible that you can't even call it a road anymore but a mud dam," a resident, who identified himself as Chris James, told Stabroek News when it visited the area recently.
James explained that the road has been in a deplorable condition for "as long I could remember" and it continues to be overlooked by the authorities.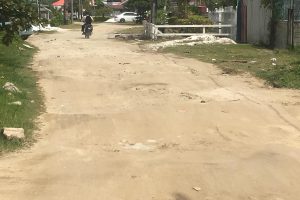 "It's one entrance and one exit to the area, so if you're living at the back then you don't have a choice but to endure the road. What would probably take you five minutes to reach from the front to the back would take at least 30 minutes because of how terrible it is," James said.
He added that as a result of the condition of the road, taxi drivers often refuse to drop customers in the area and when they do, they charge extra, sometimes even double. This, he said, is unfair but he understands since he has had to spend extra money on his vehicle because of the damage he incurs by driving on the road.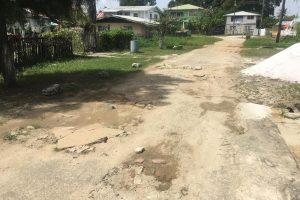 The man said that if persons do not proceed "very carefully," they are at risk of dropping into the large holes and damaging their shocks and tyres, which he stated are expensive to repair.
"Don't even talk about when it rains. It's a real mud dam then and you take even longer. Besides, it's not just this road here too, there are lots of others around Cummings Lodge that are terrible. Look at the one at the junction of Sixth Street and UG Road. People try their best to avoid it because of how bad it is," James said.
He, along with other residents of the community, said that the road needs urgent attention from the authorities as it is making their daily lives difficult.
Around the Web