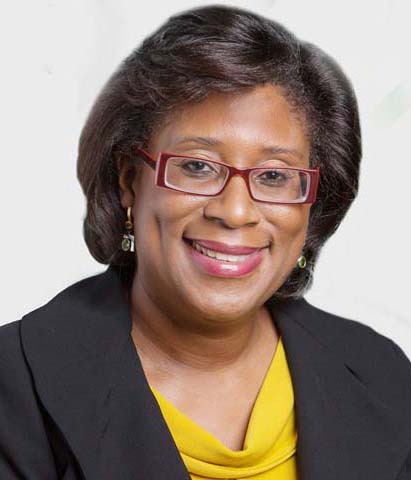 The Ministry of Public Telecommunications and the Guyana Post Office Corporation (GPOC) are currently researching the introduction of a debit card-like system for pensioners to receive their monthly payments, according to Minister Cathy Hughes.
Speaking at the GPOC's annual press conference on Monday, Hughes explained they are currently reviewing options to ensure that pensioners can receive their money in a safer manner.
"The GPOC is in a transformational mode. The corporation and predecessors have been in existence for more than 200 years, too long to be doing the same thing the same way. It's the age of technology and we have to modernise old systems and come up with new ways of doing business," she said, while noting that they are moving ahead with looking at new ways of paying pensioners.
She indicated that currently they are doing research into instituting cards. "That's like a debit card that their pension payments each month can go towards," Hughes explained, while noting that they are working assiduously to fix the current systems and are aware of incidents of pensioners being robbed, among others.
"We know many pensioners probably were employed and probably had a bank account and we want to encourage them to sign up at the post office to have their pension (linked)  to a bank account. Later this month, I will meet with the Bankers Association in an attempt to share with them and ask them to come onboard as we want to provide new payment system," she added, while stating that there is also the option of using GTT's Mobile Money service.
She also noted that they are working towards putting systems in place for pensioners who are forced to stand and wait for very lengthy periods at the post office every month to collect their pensions.
"We have a lot of work to do and are rehabbing the post office buildings that haven't been improved for many years. We are installing computers and Wi-Fi… and upgrading services, especially for those pensioners," Hughes noted.
She added that the Ministry and the GPOC have been working together to strengthen the corporation's relationship with its customers, especially with persons living in communities where the post offices are located. These relationships, she noted, are relatively strong, especially in rural areas and the donation of benches and construction of sheds around some of the offices around the country are testament to the close relationships.
She also noted that in the future, they will be looking to create a system where the post offices around the country can be used as a hub for other services.
"This is purely an example, but instead of the passport office having to create a separate passport office, especially in rural areas, the post office could be a centre. It could be where you find information and somebody representing GRA [Guyana Revenue Authority]. We, as the post office, would be selling space for GRA… dealing with whatever specific service," Hughes said.
She pointed out that they are working very closely with the Ministry of Citizenship to see what services the post office can help to provide at a more effective cost.
Around the Web