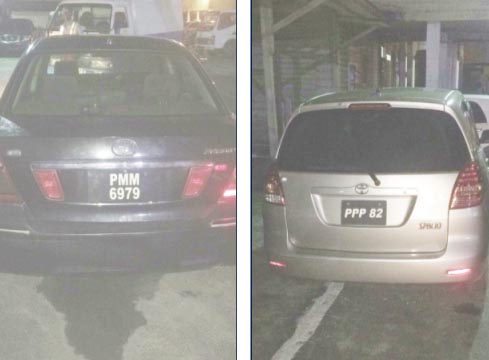 As the police probe into a major carjacking ring widens, another  two persons were on Tuesday evening arrested and four other suspected stolen vehicles were seized at Yarrowkabra, Soesdyke/Linden Highway.
Tuesday's operation was one of  numerous  conducted by the police during the past several days and which have resulted in fifteen persons including an ex-policeman being in custody.
Police spokesman Jairam Ramlakhan in a press release yesterday confirmed the arrests of two individuals including a taxi driver on Tuesday during the operation which was commanded by a senior officer.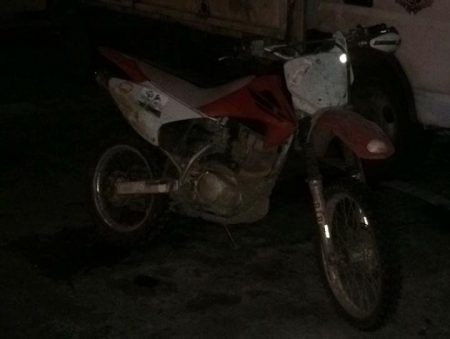 Acting on information, he said ranks swooped on a location at Yarrowkabra where a black Premio, PMM 6979, suspected to be stolen was found.
"Shortly after, the team went to another location in Yarrowkabra and arrested a 39 year-old taxi driver on whose premises two dirt bikes (a red and black Honda Tornado and a CRF Honda 150) suspected to have been stolen or unlawfully obtained, were found", the release explained.
It further stated that as the search continued, a 22-year-old taxi driver of Chand Sand Road, Timehri who was apparently alerted of the police's operation quickly handed over to the police at Timehri, a beige Spacio motor car # PPP 82, which he alleged was given to him to work taxi since last Thursday by a named individual who is in police custody.
The taxi driver was also arrested, the police added.
Prior to this, the police had carried out a 10-hour operation on Tuesday which ended at 3 am at Kuru Kururu, Soesdyke-Linden Highway during which six persons were arrested.
Two cars and a quantity of vehicle parts were also seized.
"Two motorcars along with a canter truck which is registered to a Barr Street, Kitty resident, loaded with a shell of silver Toyota Spacio and a quantity of vehicle parts, suspected to have been stolen or unlawfully obtained, were seized and lodged,"  a release on Tuesday had said.
The police had said it is believed  that these suspects are employed by an ex-policeman, who was among the other who were arrested over the weekend.
Last Friday evening, seven persons, including the ex-policeman and a Vryheid's Lust North, East Coast Demerara couple, were taken into custody after the police discovered a quantity of suspected stolen vehicles and parts.
The items were recovered at two separate locations: Monument Hill, Kuru Kururu, Soesdyke-Linden Highway and Vryheid's Lust North.
Ranks of 'A' Division, acting on information received had swooped down on a property at Monument Hill, Kuru Kururu, Soesdyke-Linden Highway and conducted a search that uncovered several vehicles and a quantity of parts, all suspected to have been unlawfully obtained.
At this location, the ex-policeman and four female suspects were arrested.
Meanwhile, ranks from the Major Crimes Unit arrested a couple at their Vryheid's Lust North home after a quantity of Allion, Premio and Spacio parts, with engraved numbers, was found on their premises.
Additionally, the frames of another two vehicles were recovered by police at Swan, Soesdyke-Linden Highway on Sunday. The vehicles were completely stripped.
A source had previously related to this newspaper that investigators had applied for an extension to further detain the seven suspects who were arrested on Saturday and it was granted.
The vehicles are lodged at the Brickdam Police Station and Criminal Investigation Department (CID) Headquarters, Eve Leary.
Around the Web