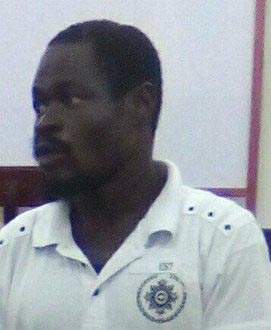 Devon Griffith, called 'Two Kicks', 30, of Hope-town Village, West Coast Berbice yesterday  pleaded guilty to killing his aunt Vaulda Britton in the course of, or furtherance of a sexual offence of rape and was sentenced to 25 years in prison.
State-assigned lawyer for the defence, Sasha Roberts, in a plea of mitigation, noted that her client had  taken full responsibility for the offence, and that he did not waste the court's time.
Further, the lawyer requested that Justice Sandil Kissoon take into consideration the fact that Griffith was never charged before. In addition, Roberts agreed that while justice must be served in favour of the now deceased, the  punishment should also afford her client the opportunity to  make a meaningful contribution to society.
Initially, the prisoner had been  indicted for murder but had denied the capital charge and confessed yesterday to a charge of manslaughter after responding to questions from the Judge .
State Prosecutor   Tuanna Hardy, relating the facts  said  it was during the night of October 3, 2015 that the accused   went to the home of   Britton at Hopetown Village.
At the time of his visit,  Britton was watching television with her granddaughter Jonica.
Griffith, a nephew,  had indicated that he wanted to spend the night, and moments later the now deceased woman and her granddaughter retired to bed.
During the night, Jonica, awoke and saw her grandmother lying motionless on the floor.
The granddaughter noticed that someone was standing over her in the darkened room, and, screamed after the lights were turned on and she discovered it was the now convicted man, who slapped her on the face and leg, before demanding that she assist him to put the lifeless woman on her bed.
The following  morning an alarm was raised. The body was transported to Fort Wellington Hospital, where Britton was pronounced dead.
A post-mortem examination report revealed that death was due to  asphyxiation  from compression injuries to the neck, compounded by suffocation.
Further, the  pathologist recorded that there was evidence of sexual penetration.
Justice Kissoon imposing the sentence told the prisoner in the dock that the sentence would start with  60 years, and an  additional 10 years for the aggravated assault.
However,  thirty-five years were deducted  for the plea of guilty, and an additional ten years  for the plea of mitigation, and  with  twenty-five years imposed, same will be spent as a guest of the state.
Further, an order was made to the Director of Prisons to deduct the period of one year, ten months which Griffith spent as a remanded prisoner.
Around the Web