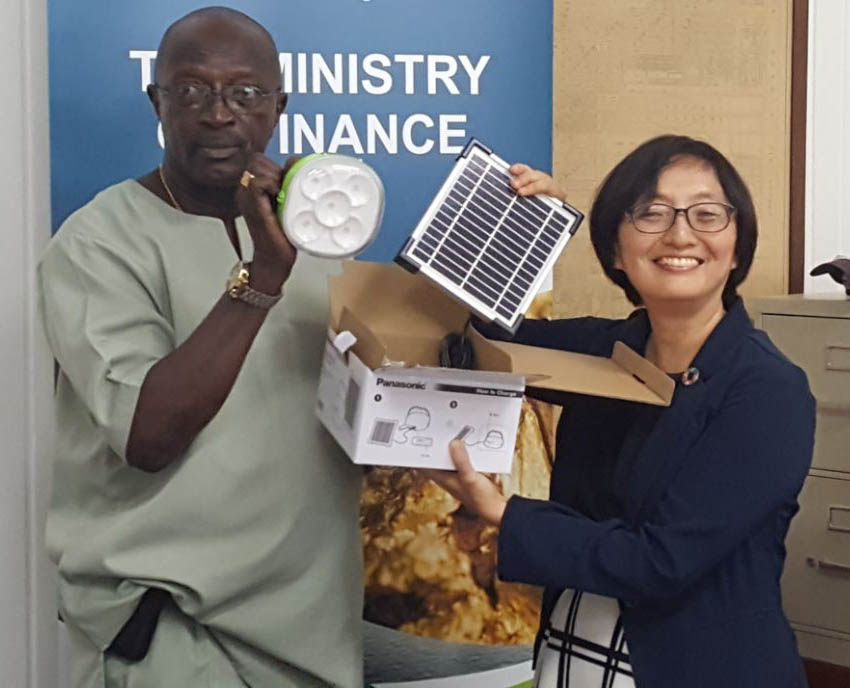 The United Nations yesterday handed over 120 solar lanterns to the Education and Health ministries, making Guyana the first South American country to benefit from Panasonic Inc's 100,000 Solar Lanterns Project.
The handing over ceremony took place in the boardroom of the Ministry of Finance yesterday afternoon.
Mikiko Tanaka, United Nations Resident Coordinator, related that up until 2017, 22 countries in Asia and Africa had been recipients of the solar lanterns, which she explained provide light to "off grid communities for social services such as medical services, schools, women's safety and empowerment."
Tanaka said that Guyana was the first country in both South and Central America to benefit from the project.
"…Last April, I visited Panasonic with my colleagues in UNDP Tokyo to introduce Guyana with photos and stories of the beautiful people living amidst and around the green and lush tropical forest that provide oxygen to the rest of the world. It was the first time they learned about Guyana and they were immediately interested to help," she related.
Minister of Education Nicolette Henry welcomed the contributions, citing the need in the hinterland regions, where a number of challenges to accessing education exist.
"These lanterns will illuminate dormitories and teachers' quarters… removing a major obstacle of learning for students, and of course, extending the working hours for our teachers…," the minister stated.
Henry said that the ministry has already identified 13 schools and centres in regions 1,2,7,8 and 9, where the lanterns will be distributed.
Permanent Secretary Collette Adams, who accepted the donations on behalf of the Ministry of Health, stated that the lanterns will be equally shared within communities that do not have access to electricity, and will be distributed to the health huts and centers.
Deputy Head of the Mission of the Embassy of Japan Yoshinori Yakabe, acknowledging that 2018 represents the final lap of the five-year project, encouraged Panasonic Inc to continue its work with United Nations Development Programme and other non-governmental organisations in the mission to help build sustainable communities.
"The Embassy of Japan certainly appreciates the significance of the contribution of 120 solar lanterns to the government of the Cooperative Republic of Guyana. This donation is an example of cooperate, social, responsibility and…benevolent missions toward sustainable development to their 100,000 Solar Lantern Project," said Yakabe.
Tanaka related that the lamps, which can also be used as charging ports, have a shelf life of about 5 years.
Around the Web