Hundreds of High School students braved the rains to attend the University of Guyana's annual Open Day on Friday, at the Turkeyen Campus.
This year's activity was held under the theme, "Expanding your horizons, exploring the possibilities," and saw students from in and around the region travelling to the Turkeyen Campus for the opportunity to interact with members of the various faculties.
Essentially, the Open Day activity had three main objectives: to advertise through creative and interactive presentations the wide range of programmes available, and to offer advice on the careers that are possible through the University of Guyana; to link students with real career examples in industry, both public and private; and to advise students on the next administrative steps to be taken towards pursing achieving the ultimate career goal of choice.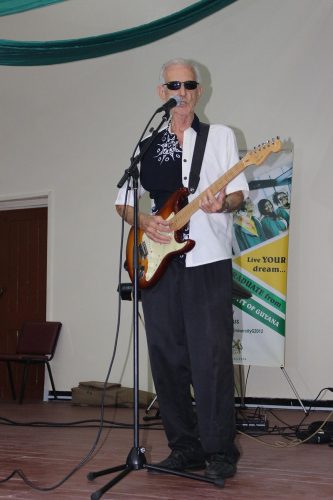 In addition to the students' interactions with those from the different faculties, some were also able to witness the debut of a new song by cultural icon, UG's Artist-in-Residence, musician Dave Martins, who performed at the University's annual Talent Splash.
Before releasing the song, which is titled, "UG coming back," Martins entertained the audience with the popular, "Not a blade of grass," and "Is we own," and the students joined in with the choruses.
Meanwhile, Martin's new song referenced the changes being made to the university by current Vice-Chancellor Ivelaw Griffith.
"The bowtie man change up act and his story is that UG coming back," the iconic Tradewinds vocalist sang.
The audience was also entertained by other performances by students of the university who sang, danced and performed spoken word pieces.
Around the Web