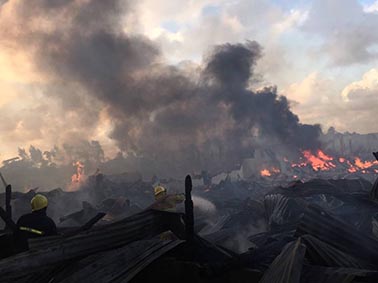 The Supra International factory, located at Coldingen, East Coast Demerara (ECD), was yesterday afternoon destroyed by a fire of unknown origin, leaving millions of dollars in losses and approximately 50 employees jobless.
The fire started between 3 and 4 pm, and quickly ripped through the two-storey concrete building, at Lot 30-31 Industrial Estate Coldingen, ECD, in less than 15 minutes.
The factory is owned by businessman Keith Moonasar, who also owns Starcomm Office Furniture, located at 230 South Road, Georgetown.
Supra International has been in operation for over 20 years, and manufactured and exported a wide range of furniture, including items for offices, bedrooms, kitchens, and outdoor patios.
Sunday Stabroek was told that the fire started shortly after the foreman, Yogeshwar Gansham, who had secured the building, and the manager had left.
Yogeshwar reportedly received a call from the security guard on duty, Baichan, called 'Biggs,' who informed that smoke was seen coming from inside the building.
As a result, Yogeshwar immediately returned to the factory and entered the building in an attempt to save some valuables, but was unable to do so, since the entire lower flat was already engulfed by flames.
The Guyana Fire Service was alerted and firefighters were dispatched to the scene. Upon arrival, they immediately went into action and managed to contain the fire, and prevented it from spreading.
An investigation has been launched to determine the origin of the fire, which was unknown up to press time.
Sunday Stabroek was told that the fully insured building stored combustible and flammable substances and material.
Everything just gone
When Sunday Stabroek arrived at the scene, a large crowd had gathered and were looking on helplessly as the factory burnt, while firefighters worked to extinguish the flames with water sourced from nearby trenches.
Moonasar, who was present, was being comforted by relatives and employees, as he wiped the tears from his eyes. "Everything just gone," he cried.
He related that after he received a call about the fire, he hurriedly rushed to the factory, but the building was already reduced to ashes.
"We got a call that there was a fire in the area. We didn't know who is it and after more call we found out that it was us," Moonasar said.
He related that as is customary, the employees would leave work at midday on Saturdays. "…Every government ministry, your office, the Office of the President, everybody we supply. In fact, right now, the furniture was here to go into Minister's Office from Monday morning," Moonasar said.
When asked about the value of his loss, the businessman was unable to state. "I can't. I can't right now. It's impossible because we have stuff coming in, going in, it's very, very hard at this point in time," he said, while describing the factory as a livelihood for 40 to 50 persons.
Meanwhile, Gansham, who was tasked with opening and closing the premises, said, "As we leave here, the security guard call meh about 3.30, and tell meh he see ah smoke. By time I reach back here, I see the smoke coming from this direction here (while pointing to a room in front the building)."
Gansham said that the location housed carton boxes of parts, which were used to make chairs. There were no flammable items in that room, he noted.
"Flammable was way down more to the back, but by time the fire spread, 'cause was a two-storey building and we have foam upstairs with fabric, upstairs just above, so as the floor catch all these thing get catch, the fire take it away," he explained.
He said efforts were made to get into the building proved futile because of the thick smoke. "…A red fire here with a black smoke," he stated, as he described the fire.
On the other hand, Baichan who was the only person present at the factory at the time the fire started said he reported to work for the 3 pm shift.
"Me been just come in and tek over and the foeman and manager was here," he said, while explaining, "Now I sit down right out here, and it got two big iron door hay (pointing to the main doors of the factory). Meh see this smoke start to push out, black, black. Meh watch and just call the foeman back, and sey 'bai ayo come see this place ah fire'. By that time them bai couldn't ah do nothing."
"The fire just start quick, quick, quick. You see company gah nuff thing yuh know, matrass and thing by the drum. The boss don't waste time, he does buy nuff thing fuh he job," Baichan added.
Owner of Looknauth Lumber Yard, Looknauth Prashad said he was in his office when he noticed smoke coming from the building and he called the Guyana Fire Service, which arrived on the scene about 20 minutes later.
"…Was all over the building, but the smoke was not that much then, but when me see it come through from the front, then is when it realise is something big," Prashad said.
'This is we daily bread'
Also among the crowd were a large number of employees of the factory, who rushed from their respective homes after receiving the news.
Most of these individuals, were teary eyed, as they contemplated their immediate future.
Deonauth Latchman related to this newspaper that he only got the job about five weeks ago. He was left without a job following the closure of the Enmore Estate.
According to Latchman, he along with his colleagues left work around midday yesterday. "We leave work around 12, and me and couple of the workers went over by me to just help me do something, then we get a call that the place was on fire and then like we get stupid, we forget like wah we ah do and we start tremble and we call a taxi and come straight here," he said.
When they arrived, the building was already burnt to the ground.
"Well, me nah know, there is nothing more because all over the country now people looking for jobs", Latchman said.
"It's a great loss for us, cause this is we daily bread," his colleague, who did sanding in the factory for the past four years, said as she fought to hold back her tears.
"Me get a call from the supervisor and she tell me that 'the building on fyah' and I just come straight here," another employee, Loretta Morrison, said.
Moonasar is also mourning the loss of one of his brothers, who was the plant manager of the business, and passed away on Wednesday. He said the family was making arrangements for his cremation when another tragedy struck.
Around the Web