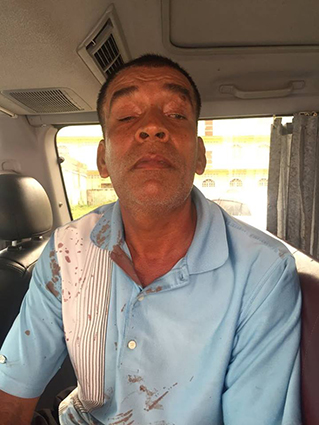 Republic Bank (Guyana) Limited has distanced itself from the claim that a bank employee was complicit in the recent armed robbery committed on a customer, while stressing that it has an obligation to ensure that all those who utilise its services do so in a safe and secure environment.
"A review was conducted and no evidence was found that supports the allegation," Michelle Johnson, Republic Bank Marketing and Communications Manager, told Sunday Stabroek.
The customer, Eddy Brandon, 50, was robbed just over a week ago of $7 million he had withdrawn.
Johnson stated that the financial institution is saddened to learn that a valued customer suffered a loss after leaving one of its branches.
"Republic Bank sincerely regrets the customer's experience and takes this opportunity to encourage the use of available non-cash options to effect payments for goods and services," she said in a brief statement to this newspaper.
Brandon, who was gun-butted and shot in the leg during a hold-up as he was making his way home from the bank, had charged that a bank employee must have played a part in his misfortune.
The Cove and John resident is one of the latest victims of a series of recent robberies where customers appear to have been trailed from commercial banks after withdrawing large amounts of cash.
Brandon, while noting that the bank had not contacted him, told Sunday Stabroek that he planned to visit the financial institution to air his grievances.
The fish vendor had previously recounted how he spent almost two hours at the bank's Triumph branch trying to execute what should have been a simple transaction.
According to him, on February 9th, the day of the robbery, he and his 17-year-old daughter visited the bank with the intention of withdrawing money from his now deceased's wife's bank account and transferring the sum to their joint account.
He presented all the documents he thought necessary but was informed by the teller that he needed a letter from an attorney in order to complete the transaction. "So I said to them that I have a joint account with my wife and I at this same bank and I would like to take out her name and put in my daughter name…," Brandon stated, while relating that he was directed to take a number and wait in another section of the bank.
After waiting about 45 minutes, however, Brandon changed his mind.
He had explained that with the bank giving him a "hard time," he decided to withdraw all of the money in order to secure the amount needed to build his new home, lest he should be subject to any difficulties with the bank again at a later date.
"So I went back to the teller and I said I would like to withdraw all the cash that is in the joint account and close the book…. So, he ask me, "Wah you gon do with this money?" I seh the place that I'm living is not my place. When rain fall, the whole place ah soak, even the bed ah wet. So I'm gonna start to build my house. So, I would like to withdraw the money," Brandon had explained.
Once again, he waited for the better part of an hour, before the teller finally returned with the cash, which was packed into a yellow envelope.
He and his daughter then caught a bus after waiting about ten minutes on the road. It was while walking to his home that the robbery was committed by gunmen, who were travelling in a car.
Brandon was adamant that given the chain of events leading to the robbery, the gunmen must have been aided by a bank employee.
Less risk
Despite concerns and continued public perceptions that bank officials are colluding with criminals, both the police and the Private Sector Commission (PSC) believe that aside from the security that banks offer, customers also have a duty to protect themselves and money.
Commissioner of Police Seelall Persaud told Sunday Stabroek that the investigations that the force have undertaken so far have not shown that banks or bank employees are in any way involved.
"However we did raise issues before regarding… that environment… having surveillance cameras… but a lot of it is organised among the persons who commit these robberies and our biggest shot is intelligence. We have been doing that," he said, while noting that ranks have gotten a lot of information and evidence which have led to a number of persons being charged.
"As soon as one group is arrested, it slows down and then after a while it picks up back again. So, intelligence is our best shot but certainly working with civil society, private sector, the religious leaders, community and everything else is, I think, the ultimate best practice," Persaud stressed.
The Commissioner said that the modus operandi of the robbers aren't different when it comes to targeting bank customers. "Wherever they think that the victim is vulnerable, they attack. So, that hasn't changed. Public information is one of the things we have been advising forever, 'don't do this,' and I think …the strategy to get that money to wherever isn't a good one," he said.
While noting his concern about Brandon's ordeal and all similar robberies, Persaud stressed the need for customers to conclude all transactions at the bank.
"The first thing is if a transaction can conclude in the bank, then let it conclude there. If it's a large transaction, you can use a manager's cheque. It costs a few dollars more but there is so much less risk associated with that… If it's a case where that wouldn't work then think security when you are moving cash, maybe a taxi, maybe your own transportation," he stressed.
More security
Meanwhile, head of the Private Sector Commission (PSC) Edward Boyer told Sunday Stabroek that robberies committed on bank customers have always been a concern for the body. This concern, he admitted, has not been officially raised with the Guyana Association of Bankers.
"There is a concern that there needs to be more security outside the bank. The robbery of customers has always been a concern of the PSC… there should be a bit more security," Boyer said.
He suggested that the banks and the police commissioner should place some emphasis on some form of added security for persons using the banks.
Asked if the PSC would engage the banks one on one, he responded, "abso-lutely not. No. No. No. The Bankers' Association has a representation on the commission, Mr. Richard Sammy and any discussion will be with Mr. Sammy. I don't think we need to engage the individual banks."
Sunday Stabroek made contact with Sammy's office on several occasions but was told that he was unavailable.
The private sector last year expressed its willingness to meet with the Association to discuss security matters in wake of a failed plot to rob Republic Bank's Water Street branch.
While noting that the robbery of bank customers is "bad for business," Boyer said, "We can't tell the bank how to do their work. What we could do, we can say to the bank there is a concern with persons leaving the bank… and we would like the police and the bank to emphasise some more security."
He advised customers to use a security company when they are handling large amounts of cash, while noting that it is better to spend "$10,000 than to lose $10 million."
Around the Web