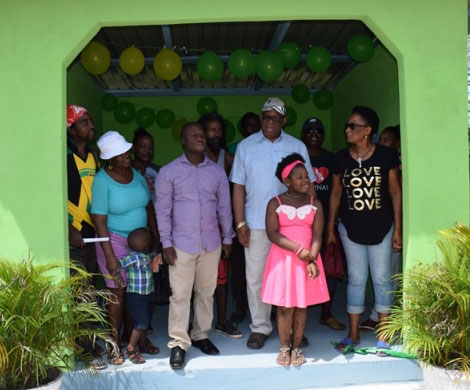 Wismar, Linden residents now have the convenience of bus sheds when using public transportation.
According to the Department of Public Information (DPI),  Minister of Finance Winston Jordan yesterday commissioned one of three bus sheds at One Mile, Wismar, Region 10. The sheds, two at One Mile, Wismar and one at Amelia's Ward were commitments made to the region during a previous outreach in September 2017, by the Minister.
DPI said that Jordan encouraged the residents to maintain the facilities. "I would like to urge the community to care this facility. Monies that have been used to help build this is part of your tax dollars and therefore you ought to respect it down the road," the Minister said.
Residents were also the recipients of street lights and sport gears, mostly footballs.
Member of Parliament, Jermaine Figueira, said that the Region has undertaken a lighting project in all communities. "The minister would have contributed significant (and it) has greatly helped the community," he said.
Around the Web