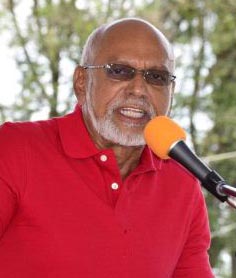 Former President Donald Ramotar yesterday said that the contract he signed with Canadian oil explorer, CGX followed a template for all agreements clinched before petroleum was discovered in 2015 and its release is a "lame" attempt by the government to compare it with the 2016 one signed with ExxonMobil  following the major hydrocarbon discovery in 2015.
"I would like to put it in context. It was a time when we had no exploration in our waters, we were trying to get people to investigate the area. I followed a more or less formal template that was there," Ramotar told Stabroek News.
"Government was in a far better position in 2016 when it renegotiated for Exxon's production licence because there was confirmation that oil was there. So to use this is just a very lame excuse for a lazy government," he added.
The former President said that the Guyana Geology and Mines Commission (GGMC) has a template which it worked from since the "mid 1980s" but it was tweaked in the 1990s and then in 2012. The changes made, he said, were to cater mostly for the addition of gas discovery since the exploration moved from the continental shelf to deep and further, ultra-deep waters. Prior to 1999 all contracts pertained to exploration on Guyana's shelf.
"Essentially there were not any great changes. If you look at all the agreements signed from the mid-1980s to when I did that they were more or less the same…if you or anyone for that matter check with GGMC the records will be there and you can see and compare the changes made… I was assured by the Ministry of Natural Resources and their technical people that this was the format that was used at the time of CGX," he said.
Ramotar said while he doesn't have all the information at hand, a person looking at the changes to the template over time could easily recognize the changes made and could gather that it catered to the administrative climate at the time.
Pointing to the contract signed with US explorer Anadarko, he noted that while he could not be specific it would be noted that the clause dealing with gas was modified significantly  because the agreement was not just dealing with a potential oil discovery but one where  gas in large amounts could be found.
Government on Saturday released the Production Sharing Agreement (PSA) signed by the  Ramotar-led PPP/C administration with CGX Resources Inc., the terms of which appear to be almost identical to those of the much maligned 2016 agreement signed by the current administration with ExxonMobil's local subsidiary and its partners. The government had said that it would be releasing  all contracts for natural resources.
The 69-page document, which is comprised of 33 Articles, was signed by then president Ramotar on February 12th, 2013, and it appears to be an updated version of the one that was clinched with CGX for its drilling operations, which began in 2000 but were interrupted by Surinamese gunboats. CGX has sunk several offshore wells but has not found oil in commercial quantities.
Observers have noted that the ExxonMobil and partners' PSA covers   26,806 sq. kilometers while CGX's is 4, 000 sq. kilometers.
According to the 2013 agreement with CGX, government is guaranteed a 53% share of profit oil and profit gas, with 47% being retained by CGX. It also provides for a 1% subsumed royalty to be paid by the government. The ExxonMobil agreement, on the other hand, caters for a 2% royalty on gross production for Guyana, after which the two partners share profit from oil 50/50.
Additionally, the CGX agreement does not cater for a signing bonus as is catered for in Article 33 of the ExxonMobil agreement nor is there a provision for a "bridging deed."
Exxon also has to pay US $900,000 more for their annual licence rental as it stands at US$1M whereas CGX's is US$100,000.
Exxon has to also pay more for training of locals, a sum of US$300,000 annually compared to CGX's $100,000 and also to government as opposed to the GGMC. In the CGX contract it says the monies will "provide Guyanese personnel nominated by GGMC with on-the-job training in the contractor's operations in Guyana and overseas…" Government nominates those persons in the ExxonMobil contract.
Unlike the CGX agreement which came into effect on its signing date, Exxon's agreement states at Article 30.1 that it shall enter into force and effect on the date in which the petroleum prospecting license in respect of the contract area is in full force and effect ("the effective date"). It adds that the 1999 petroleum agreement shall continue to be legally binding on the parties until it terminates or is terminated in accordance with its terms and the bridging deed.
The former President says the PPP/C is justified in its criticisms of the Exxon contract because when the agreements were signed during the PPP/C term, it was shaped to attract investors here since there was no certainty of oil on the shelf more so in deep and ultra-deep waters.
He called the David Granger-led APNU+AFC government "downright lazy" since he said they never took the time when renegotiating the contract in 2016 to make changes to cater for the fact that oil had been found in large quantities and there was potentially much more.
"Now the government is in a far better position because they have far better data and information to work with. And with that kind of information that they have now, this government was and is in a much stronger position to negotiate and renegotiate.
"I would also say that the government is just downright lazy. I think they could have done more with the information that they have. Oil, that is, the first find, was discovered two weeks after they got into office. They had time to go over that agreement and were in a far better position to get a far better deal for us. I think this is just a cheap shot where the government  is trying to take the heat off of them when they had far more information than I ever had," he added.
Ramotar's views were similar to those of his then Attorney General Anil Nandall.
Nandlall posited yesterday on his Facebook page, "The attempt by the Government at comparing the 2016 Petroleum Agreement which it entered into with ExxonMobil with similar agreements entered into by the PPP/Civic Administration, is nothing but a desperate, pathetic and asinine attempt at damage control. It is the most incompetent attempt at mitigating one of the most lopsided contracts perhaps ever negotiated in modern times," Nandlall said.
"At the time when the PPP/Civic Government negotiated these contracts, the realities were radically and fundamentally different. There were no conclusive evidence that we had oil in commercial quantities, moreover and certainly, in the quantities numbering billions of barrels. Additionally, when some of those contracts were signed our border controversy with Suriname was not yet resolved. In 2016, when this government signed the petroleum agreement, there was conclusive confirmation that the oil reserve was estimated at over three billion barrels and our territorial boundary dispute with Suriname was conclusively resolved," he added.
Nandall said that the public knowing the circumstances will not be fooled by government's publicity.
"For this government to even think that sensible Guyanese will gobble up this clumsy propaganda, is not only a crass insult to our collective intelligence but it demonstrates how extraordinarily naive the government is," the PPP/C Parliamentarian said.
Around the Web