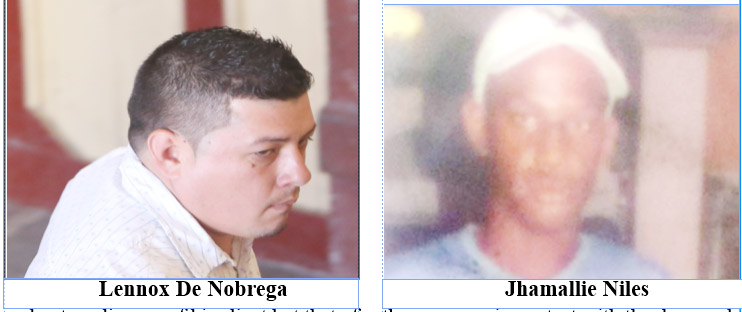 Lennox De Nobrega, the driver charged with causing the death of a teenager by dangerous driving, yesterday stated that although a breathalyser test found alcohol on his breath after the accident, it was due to mouthwash he had used earlier.
The prosecution yesterday closed its case against De Nobrega after presenting five witnesses and he subsequently led his defence through sworn testimony after Chief Magistrate Ann McLennan found that a prima facie case had been made out against him.
The charge against De Nobrega states that on October 14th, he drove motor vehicle PRR 7624 on Mandela Avenue in a manner dangerous to the public, thereby causing the death of 17-year-old Jhamallie Niles.  After the prosecution closed its case, De Nobrega's attorney, Dexter Todd, argued that the evidence presented by the prosecution only pointed to negligence and not negligence of his client but that of the deceased.
The prosecutor, in response, stated that from the evidence of one of the witnesses, it was clear how the accident occurred. It was stated that the accused was driving his car at a fast rate and the damage seen on the vehicle indicates the force with which the car came in contact with the deceased.
Chief Magistrate McLennan subsequently stated that based on the evidence presented by the prosecution's witnesses, a prima facie case had been made out against him.
De Nobrega then decided to go into the witness box and in a sworn testimony he stated that at the time of the accident he was driving along the road and cars coming from the opposite direction with their high beam lights on made it hard for him to see. He then stated that all he saw was a shadow.
The prosecutor subsequently asked how fast he was travelling and he stated that he was going at about 45 to 50 kilometres per hour. The prosecutor then asked him where he was before he was driving that night and De Nobrega said he was at his friend's house at Eccles. The prosecutor then put to him that he was drinking alcohol at his friend's home but he denied the claim. The prosecutor asked if he took a breathalyser test and he responded by stating that one showed that he had alcohol in his system but it was due to the Listerine mouthwash he had used that night.
Both the prosecution and defence will make their final submissions in the case today before the Chief Magistrate.
Around the Web