Minister of Public Telecommunications, Catherine Hughes has urged the residents, teachers, and students of Aranaputa in the Rupununi to take advantage of the Information and Communications Technology (ICT) services which will be brought to the village.
According to the Department of Public Information (DPI), this charge was delivered as a community outreach continued in Upper Takutu-Upper Essequibo (Region Nine) on February 16, 2018.
"If you have a student here [Aranaputa] that wants to do Biology but you do not have a Biology teacher, that student could connect to any classroom, Queen's College, the Bishops' High, any of the schools in Georgetown and do the same class and to be able to do the same exam and get the same certificates we encourage as part of the education process", she said, according to DPI.
She said that connectivity in the region is vital to education more now than before, given the fact that the Caribbean Examinations Council (CXC) requires that School Based Assessments (SBAs) be done online.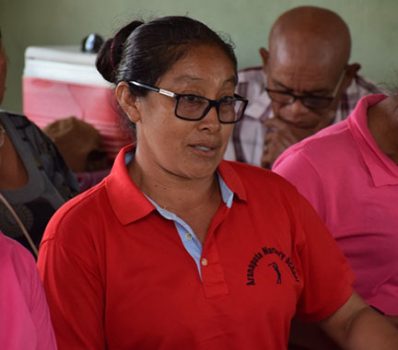 Headteacher of the Aranaputa Nursery School, Leona DaSilva welcomed the initiative, DPI said. "If we have this system it would be better for our children who are doing Caribbean Secondary Education Certificate (CSEC) or even other research at the Primary school …maybe you're doing a biography of someone, there is nothing here that you can go in the school and get but surely if you go on the internet you will get it."
Once internet access is provided to the village, the headteacher said students will be able to get their CSEC results in a timely manner too.Other challenges in the execution of the National Curricula were also highlighted, which Hughes committed to addressing at a ministerial level.
"There is definitely a huge disparity so the commitment of this government is to bridge that gap."
DPI said that the Minister informed that the plan is to have preloaded digital textbooks on storage devices and on the laptops provided to the villages, which will make access to learning for students and teachers easier.
Around the Web