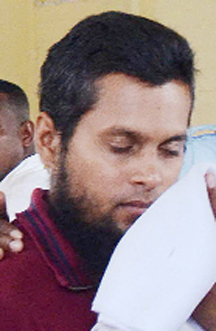 Four years after being committed to stand trial for the alleged rape of nine boys, Muslim scholar Nezaam Ali was yesterday recommitted once more after years of delay and uncertainty over evidence.
"I feel relieved," was all the mother of four of Ali's alleged victims could say when she heard Magistrate Alex Moore recommit Ali to stand trial on nine rape charges.
The case, which should have already gone to trial in the High Court, had to be reopened after it was discovered that key documentary evidence–birth and medical certificates—was missing. Ali, of 268 Section 'C' 5 South Turkeyen, was charged in 2012 with raping nine boys.
The charges alleged that between December, 2011 and January, 2012, being a teacher attached to the Turkeyen Masjid, he engaged in sexual activity with the children, abusing a position of trust.
When the matter was called yesterday at the Sparendaam Magistrate's Court, Magistrate Moore, having looked through the nine magisterial files, noted that the missing documents were all copied, along with copies of statements. However, the magistrate stated that he observed that only one of the nine Magisterial files had the information, including the charge, the name of the complainant etc., sworn.
The magistrate added that it appeared as though the files were reshuffled and would presume that when the files were sent to the chambers of the Director of Public Prosecutions (DPP), the sworn information would have been present or something would have been said.
Subsequently, the prosecutor noted that all the files had sworn information in them when they were sent to the DPP's Chambers after the police were instructed to do certain things relating to the missing documents.
She noted that the police file has the information relating to the charges written on the file and added that the files are kept in the possession of the police at all times. The prosecutor noted, however, that the documents that went missing were from the court's file.
The magistrate then advised the prosecutor to get in contact with the DPP's Chambers before he proceeded. The court was then adjourned for an hour.
When the court resumed, the magistrate stated that the police would sort out the issue and then went on to admit the missing documents in each file as exhibits.
Subsequently, Magistrate Moore told the accused that the evidence was still sufficient to have him stand trial at the High Court for the offences. He then asked the defendant if he wished to say anything, to which Ali responded, "I have nothing to say."
Ali was then told that based on the whole of the evidence, he was committed to stand trial at the next practicable sitting of the Demerara Assizes. He was then released on his own recognizance for two of the charges and a total of $1,250,000 bail for the remaining seven charges.
Around the Web