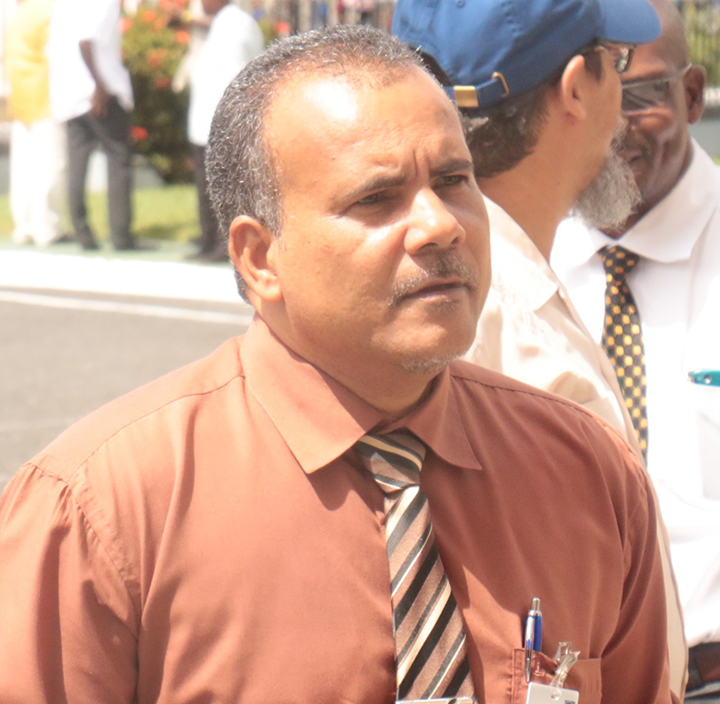 The next hearing in the multi-million-dollar wrongful dismissal suit brought by former Operations Manager Kent Vincent against the New Building Society (NBS) is set for March 22nd.
At an in-chamber hearing last Tuesday morning, Vincent was ordered by acting Chief Justice Roxane George to serve a supplementary list of documents on or before February 22nd. NBS and its co-defendants then have until March 8th to serve and produce its list of documents.
The matter then will come up again on March 22nd for reports and directions.
Vincent, who is being represented by attorney Robin Stoby SC, filed a suit against the entity for in excess of $24 million at a rate of 6% per annum, contending that his services were wrongfully terminated.
NBS has, however, argued that because Vincent "was summarily dismissed for gross misconduct," he is entitled to neither the benefits nor reliefs he is seeking.
He has asked the court, among other things, to declare the mortgage lending institution's actions against him as being null, void and of no legal effect and that he be reinstated to his position.
In 2007, Vincent, former Manager Maurice Arjoon and Assistant Mortgage Manager Kissoon Baldeo had their services terminated after $69 million was discovered missing from the account of Bibi Khan.
After waging an over one-decade long legal battle with the NBS, Arjoon was late last month finally paid his full pension of $59,033,281, which was awarded by the Court of Appeal.
But the payment, for which the financial institution has a pending appeal, was made only after Arjoon's legal team moved in to levy on the bank's assets, following its repeated refusal to comply with court orders directing it to pay up.
Payable benefits
Apart from seeking compensation for wrongful dismissal, Vincent in his writ of June 1st, 2010, is also asking the court for severance benefits and outstanding leave pay, which he argues is payable in accordance with the Termination of Employment and Severance Pay Act.
Vincent is suing the NBS for some $24,571,653 and payment of interest at a rate of 6% per annum.
In addition to compensation for loss of earnings from his dismissal, Vincent's contention is that he is also entitled to all rights and benefits under its pension scheme, for which his contributions amount to some $1.9 million.
Apart from NBS, also listed as defendant's in Vincent's suit are Trust Company (Guyana) Limited (in its capacity as Custodian Trustee of the NBS Pension Scheme), Ahmad Khan, Seepaul Narine and Nizam Mohamed (in their capacity as Managing Trustees of the NBS Pension Scheme).
According to Vincent, he provided pensionable service over the 13 years he was employed as a full-time employee, and as a contributing member to the scheme is entitled to the full benefits thereunder.
In accordance with the rules of the pension scheme, the plaintiff said he contributed 6% of his monthly salary to the fund.According to rules of the scheme, Vincent said he is entitled to receive pension calculated in accordance with those rules, so long as he shall live.
In the alternative, he contends that by virtue of his dismissal, he is entitled to damages against NBS for "loss and deprivation of his pension rights," or alternatively to a refund of his contributions, together with interest at the bank rate of %18.
In their defence, Khan, Narine and Mohamed are contending that they are not personally liable to the plaintiff, and that in their stated position as Managing Trustees of the pension scheme, they cannot be sued to make any payment allegedly owed to Vincent by the scheme.
They have contended, further, that no prior claim for relief was ever made by the plaintiff against them or Trust Company (Guyana) Limited, and that there is therefore no authority on which he can sue them.
Routine checks
NBS is arguing that Vincent's conduct has caused it losses amounting to some $7o million because of improper withdrawals from Khan's account after he failed to check the power-of-attorney and its origin, by which the withdrawals were made.
NBS is also claiming that part from him improperly approving withdrawals from the account, he permitted these transactions without a passbook being presented or a duplicate of same.
Among other things, the bank in its defence has said that the plaintiff failed to carry out routine checks before permitting the withdrawals from Khan's account.
Vincent has denied these claims, calling them "malicious, and scandalous, and unsupported by any evidence," while maintaining that his dismissal was wrongful.
He said that the power-of-attorney was checked by the relevant persons, including himself, while adding that there was no system at the time of the alleged fraudulent withdrawals in 2006 to check on the country of origin to verify the authority of the document.
According to Vincent, at that time, the system was to make contact with the account holder to verify the authority of the power of attorney even if the account holder was overseas.
He said too that at that time, any senior managers, including him, had the authority to pay any withdrawal with or without the presentation of a passbook, as was the system of the NBS.
Khan was in Canada when the withdrawals are alleged to have been made.
In his statement of claim, the plaintiff noted that he had served the bank for 13 years, until his dismissal on August 14th, 2007. He said he began working with the entity in June of 1994 as manager of the Linden branch.
He said he was transferred as branch manager to Essequibo in 2001, and finally to the main Georgetown branch in 2005, when he was promoted to operations manager.
From court documents seen by this newspaper, Vincent advanced that he had always performed his functions "honestly, faithfully and diligently, complying with all rules and regulations," and in accordance with all terms and conditions of his employment contract.
Nonetheless, Vincent said he was summarily dismissed by letter of August 14th, 2007 from the NBS through its acting Chairman Dr. Nanda Gopaul. That correspondence, he said, cited "serious misconduct."
According to him, he was given no notice, and was paid no severance or termination benefits. He argued, further, that he had been dismissed from the office of operations manager, without a special resolution being passed, which he said is required by Rule 49 of NBS's rules.
The bank has, however, said that despite its request, Vincent refused to meet with the Board "to treat with his part in the withdrawals from the account."
According to Vincent, his dismissal was "oppressive, arbitrary, and was malicious without any reasonable grounds," entitling him to aggravated, punitive and exemplary damages.
He contends that his dismissal was unlawful, wrong, in breach of his contract of employment, and in breach of the provisions of the New Building Society Act as well as the Termination of Employment and Severance Pay Act.
NBS is being represented by senior counsel Ashton Chase, in association with attorneys Pauline Chase and Devindra Kissoon.
Around the Web