Business owners along sections of the East Coast Demerara carriageway are upset over the lack of consideration being shown to them by the engineers working on the East Coast Demerara Road Widening and Improvement Project.
The issue stems from persons not being able to access their properties due to the ongoing works on the highway, thus resulting in the loss of revenue.
A woman who owns a boutique in the Montrose area told Stabroek News that the situation has been this way for at least a month, and has resulted in the store making almost no sales during that time.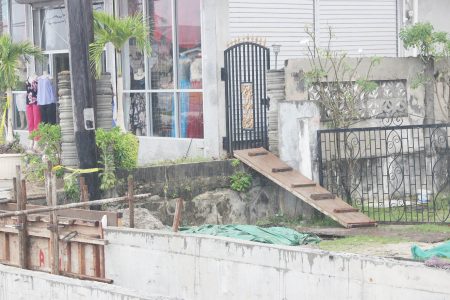 She noted that when the issue was first raised with the engineers, they had offered the assurance that covers would be placed over the trench area to allow access to the buildings while the works continued.
However, the woman noted that after time went by, they were told that the quick mix cement to be used for that specific activity had run out. They were also told at one time that the construction of the covers was not included in their contract and as such, they could not do anything about it.
Stabroek News was further told that several calls were made to the Ministry of Public Infrastructure's hotline where they were told that someone would look into it.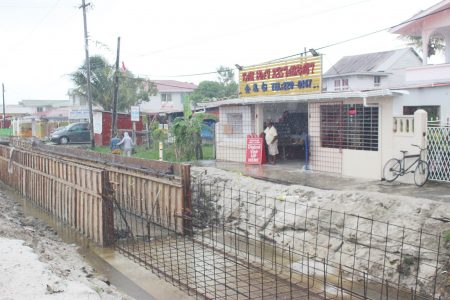 It was further stated that while persons from the ministry visited the area, it was days after that she had made an improvised stairway to allow potential customers to enter her store.
"Is only GTM they gave an entrance to,  I had to make a step for customers when they coming to the store, but that doesn't help, people in coming in; they take one look at what they got to go through to come in the store and decide not to come in," the woman said.
"We hardly getting any sales; I got expenses to look after, I have a house to maintain and workers to pay because they still come to work. They really doing us bad man, when rain fall is nothing but mud and nobody will want to come through that to come in the store," she added.
Meanwhile, the Coordinator, Works Services Group, Ministry of Public Infrastructure, Geoffrey Vaughn when contacted said he could not at that time comment on the situation since he only recently returned to office. Never-theless, he promised to check in with the engineers to determine the dynamics of the situation.
According to the Department of Public Information (DPI), the works for the East Coast Demerara Road Widening and Improvement Project which began last year August, are expected to be completed in August 2019.
The project focuses on the widening of the roadway into four lanes between Better Hope and Annandale, and thereafter, an asphaltic concrete surface upgrade to Belfield.
It was explained that twenty-six structures will have to be widened to enable the four-lane road and two bridges to be reconstructed.
In addition, 11 traffic light signals will be installed at the busy intersections, along with street lights, road safety signs and other speed reduction devices. (Mariah Lall)
Around the Web