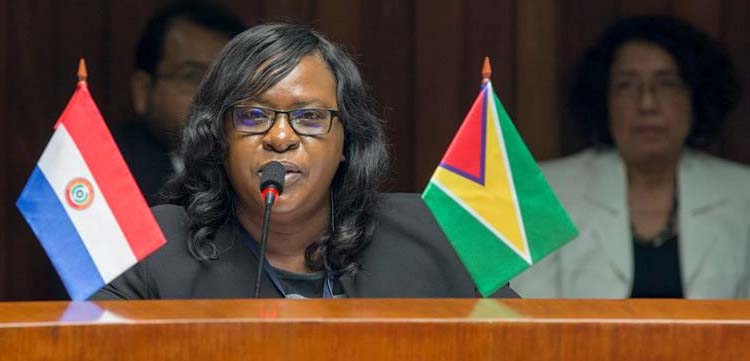 Guyana is winning the war against the tuberculosis (TB) bacteria.
This is what Dr. Karen Cummings, Minister within the Public Health Ministry told the recently-concluded Andean Group of countries forum held in Lima, Peru.
"The case notification rate over the past 5 years decreased from 92 per 100 000 in 2012 to 70 per 100 000 in 2017. This is a good indication as TB has been on the decline significantly in key populations, namely the prisoners, children and elderly," Cummings told her the gathering, according to a release from her ministry.
Although the Human Immuno- Deficiency Virus (HIV) caused a spike in the TB cases last year, the National Tuberculosis Programme (NTP) and the National AIDS Programme Secretariat (NAPS) are currently working on expanding the Isoniazid Preventative Therapy in persons living with the deadly disease here, Cummings stated.
She said that since the implementation of the directly observed short course treatment (DOTS) in Guyana, the TB treatment success rate of new smear positive cases has jumped from under 50 percent in 2005 to 78 percent according to most recently available national figures. This, however, falls below the World Health Organization (WHO) END TB Strategy 2025 target of 90 percent treatment completion.
Guyana, she said, will continue exploring ways to enhance the socioeconomic conditions of less fortunate TB patients by implementing "more robust initiatives" which will target Pillar 2 of the country's 'END TB STRATEGY' which comprises Bold Policies and Supportive Systems.
She said part of the country's strategy addresses social protection, poverty alleviation and actions on other determinants of the contagious TB ailment.
The release said that Dr. Nila Heredia, Executive Secretary of ORAS-CONHU who spoke at the meeting said the resistance to first and second level treatments of Tuberculosis continues to be a major public health concern around the world.
Around the Web