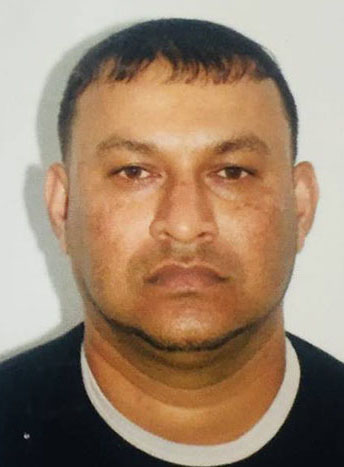 Bisnauth Terry Chan, the electrical contractor who was shot in his head during a robbery last week shortly after he visited an East Coast Demerara bank, has been discharged from the hospital and is recovering at home.
Chan, Stabroek News was told, was discharged from the hospital on Sunday after a successful surgery.
Commander of 'C' Division Edmond Cooper, when contacted for an update, told this newspaper that the investigation is still ongoing and the police have not yet made any arrest.
Chan, also known as 'Snatcher,' a father of two of Enmore Hope West, East Coast Demerara, was attacked and cornered at his Enmore Public Road worksite last Wednesday afternoon, after he was trailed from the Republic Bank branch at Triumph.
Stabroek News had previously reported that Chan, who is employed with R. Kissoon Contracting Service, had visited the bank to cash a cheque, worth $800,000. While there, he transferred $200,000 to his bank account and took possession of the remainder to renovate his home.
He subsequently left the bank on his motorcycle for his worksite at Enmore Public Road. Upon arrival, he was cornered by one of two bandits, who shot him before relieving him of a bag containing the cash.
Chan related to Stabroek News that he suspected he was being trailed by a car after he left the bank.
Despite this, Chan had said he continued his journey and then observed a CG motorcycle proceeding at a fast rate towards him. The motorcycle, he said, had no number plate.
"When ah reach by Lusignan side, by the market deh, ah observe this bike but the bike was coming at a fast rate and I start accelerate and as I accelerate I lost them at a good distance but the car was still behind me and like [at] Melanie I see back the bike and the car, so I ride as fast as you could ride and when I watch back now, reaching by my worksite, the car was still there and the car pass slowly past the worksite, so I just park meh bike and tek out the helmet and come off and try fuh tek off the haversack and put in on the bench," he had further explained.
At this point, he recalled hearing a loud noise. "…I hear a loud noise and I know was a gunshot. After I hear the noise now, I feel meh head, it get numb, the blood start drain and I tell meh foreman that I get shoot in meh head and the guy come and pull off the bag and seh 'loose the [expletive]  bag' and them ride off," he said.
While all this was happening, the pillion rider remained seated on the motorcycle, which was parked on the opposite side of the road.
Around the Web