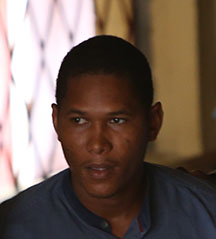 Contractor Elton Carter, the man charged with the D'Urban and Smyth streets accident that claimed the life of cricket coach Daniel Richmond last year, was yesterday handed a 12-month sentence.
Carter, 31, of 50 'CC' Eccles, East Bank Demerara, was initially charged with driving motor pickup GRR 8350 in a manner dangerous to the public, thereby causing the death of Richmond on May 21st, 2017, at Smyth Street, Georgetown.
He was, however, found guilty of the lesser count of dangerous driving.
It was previously reported that minibus BVV 5273, which was driven by Osafo Edghill, was travelling east along D'Urban Street when the pickup, which was proceeding south on Smyth Street, crashed into it.
As a result of the impact, eyewitnesses said the minibus toppled and the pickup slammed into a car, PLL 4474, which was parked in front of the Classique Sports Bar.
Prior to the ruling by Magistrate Judy Latchman, attorney Stanley Moore, who represented the accused, presented written submissions to the court, which was followed by a reply by police prosecutor Shawn Gonsalves.
Magistrate Latchman, in summing up the evidence, noted that there were a total of 14 witnesses who testified in the matter.
She also noted that Carter gave an unsworn statement, where he stated that he was not the driver of the vehicle. The magistrate said that she disbelieved that the defendant was not the driver of the pick-up and added that she found that he failed to take into consideration the stop signs and the lines on the road and the fact that the road was wet. She further noted that she found that the driver of the bus had the right away.
In light of these circumstances, the magistrate found him guilty of dangerous driving and later sentenced him to 12 months in jail.
Attorney Moore later requested bail pending appeal but his request was denied.
After the accident, Carter was also charged with failing to produce a driver's licence, not being in possession of a driver's licence and driving an uninsured vehicle.
Nathan Eversely, an injured passenger of the minibus, had told Stabroek News that from the time they left the park, the driver of the minibus was driving at a moderate speed. He explained that from where he was sitting in the bus, he noticed the pickup travelling at a fast rate from Brickdam heading south. Eversely said the driver of the pickup "didn't even hit no brakes, he fly straight into the bus."
Around the Web