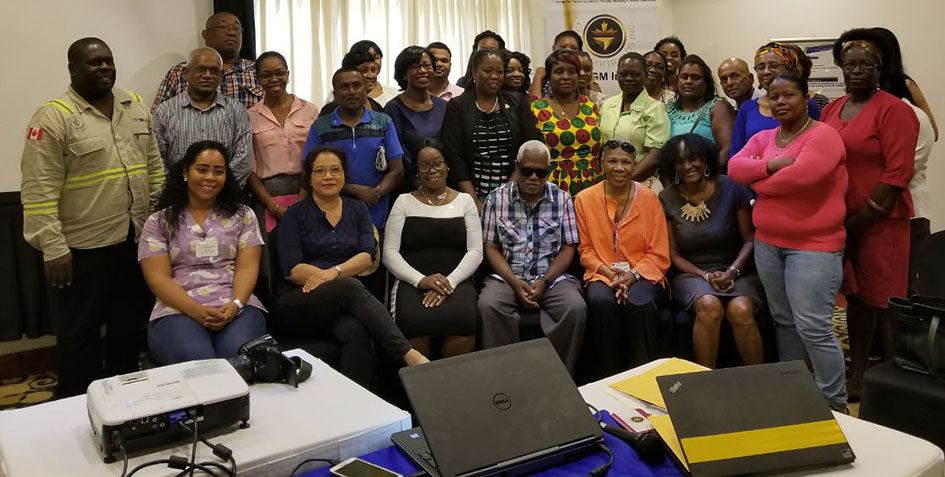 Guyana Goldfields/Aurora Gold Mine Inc donated over $16 million to 19 social development organisations on Wednesday at a "networking circle," where representatives testified to the impacts the company's financial support has had on their initiatives
The event, hosted at Herdmanston Lodge, brought together social change workers from across the country to share on their work and connect with each other.
The organisations are being funded under Goldfields' Children's Need and Development Initiative (CNDI), a Corporate Social Responsibility (CSR) support programme now in its seventh year. Initially, it focused on the needs of children, but has since been extended to other areas, including elderly care, as the company recognised that there were many other groups which could benefit, CSR Manager Ayaana Jean-Baptiste related.
Wednesday's engagement mainly involved the guests making presentations on their organisations and communities, sharing personal stories, and relating how the assistance provided by Guyana Goldfields has enabled them to continue the work that they are involved in.
A representative of the Epilepsy Foundation of Guyana related that the organisation has become strengthened as a result of the partnership with the mining company and is now involved with one of the leading international bodies focused on epilepsy.
"We're actually beyond supporting people and families. We've actually become a robust organisation within our chapter of the International Bureau for Epilepsy, one of the two global organisations dealing with epilepsy. And by virtue of that, the Epilepsy Foundation of Guyana is recognised globally…And for me…that is a big deal. It says that we're not just a local group doing something, but with your help, we've actually become a stronger institution," he stated, while relating that Guyana Goldfields has been its only source of funding since the foundation's establishment in 2014.
He added that because of their international recognition, TeleEEG, a charity in the UK, has donated an electroencephalogram (EEG) machine, which records electrical brain activity, to the foundation. This has allowed them to run tests, send the readings to a doctor overseas that they collaborate with, and receive the reading "almost immediately."
"TeleEEG has not only donated to us the EEG machine, the first that we know of in Guyana, or the first that's available freely…but they trained our patient advocate and we've conducting some EEGs on people," he said, adding that it is considered "progress" though ideally, the foundation would want to have a neurologist on spot assisting with diagnoses.
As far as community engagement goes, Hogg Island, Truli Island, Karia Karia and St Cuthbert's Mission are the communities which benefit from financial support from Goldfields.
The Toshao of St Cuthbert's Mission, Lenox Shuman, was one of the attendees at Wednesday's forum.
He explained that over the years, Guyana Goldfields has been the single largest employer of people from St Cuthbert's, employing between 42 and 46 persons in a community of 1,500. The Toshao related that because the community is not rich in minerals, there are not a lot of economic activities available.
"…So, most of the young men actually go out and work in small mines, that poses a problem because we have young men coming back with dengue, malaria, other vector borne diseases, among other things, having had their lives threatened…So we're trying to pull them away from all these things and get them into a more stable relationship with their employers, and Guyana Goldfields has been one of those employers," Shuman shared.
CSR Field Assistant Leon Roberts informed the gathering that the company has designed a "women heavy duty operator's programme" to train women in the community. Seventeen women are currently pursuing certification in the programme.
"…We don't just want the women to get into the industry at any old level. People think about cleaners and janitors, and while those are necessary jobs, we want them to have the ability to get in at a level that they can make very meaningful contributions to those households. If you know what a heavy duty operator in the mining industry makes, you can understand what those young ladies are going to contribute to St Cuthbert's Mission in terms of income generation when they complete their course," Roberts stated.
St Cuthbert's recently signed a Memorandum of Understanding to "protect" their relationship with Goldfields, Shuman related, noting that the support they receive from the company brings stability to the community.
"…We've been working with organisations from coast to coast, all across Guyana, and some of them, in their very work, they have a multiplier effect in terms of the geographic areas that they reach, and the different groups that they reach, and we try to, as much as possible, extend that reach and we hope that through networking at this forum and throughout the year, and us visiting you and interacting with you, we're going to have that multiplier effect on whatever resources become available," Roberts told those gathered.
The organisations which received funding on Wednesday day were: The Ptolemy Reid Rehabilitation Centre, the Saraswati Vidya Niketan, Artistes in Direct Support, I Can Foundation, Family Awareness, Consciousness, Togetherness (FACT), Volunteer Youth Corps, Help and Shelter, Step-by Step, the Epilepsy Foundation, the Guyana Society for the Blind, Joshua House, the African Cultural and Development Association (ACDA), Blossom Inc., the Guyana Hindu Dharmic Sabha, Centre of Learning and Afro Centric Orientation, the Rose Hall Town Youth and Sports Club, the Ogle/Industry Community Group, Hope For All and the Women's Refuge.
Around the Web