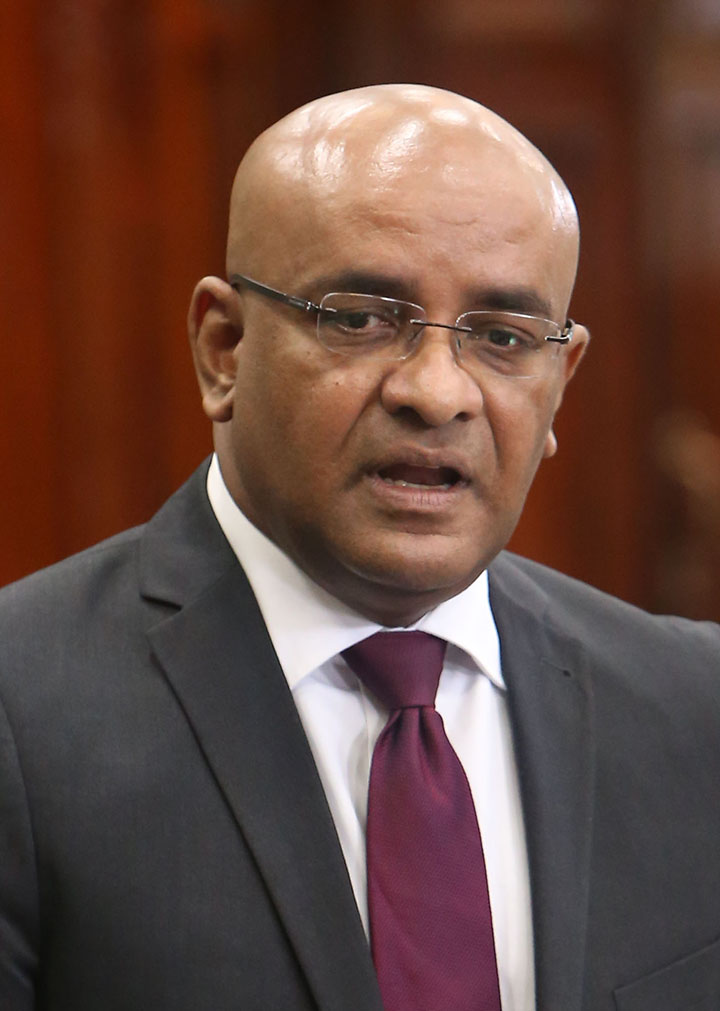 Opposition leader Bharrat Jagdeo has scoffed at government's decision to have an international firm advise on marketing the country's remaining oil blocks, saying it is most prudent to either auction them or leave them for future generations.
"You don't need to bring in anyone to tell you what your advisor already did. Auction the blocks, that is the best way the government gets value," Jagdeo told a press conference on Thursday.
"Either you auction it or not giving it out. You wait the next ten years, go to the Parliament, because there is something called intergenerational equity, and [say] we will leave these blocks for another generation," he added.
Natural Resources Minister Raphael Trotman last week told this newspaper that an international firm would be retained to advise on the process going forward.
"A shortlist of capable firms is being compiled for Cabinet's consideration. Once I have further details, I will communicate. There are a number of companies that have submitted applications for concessions and discussions have been had with some foreign governments about other companies taking concessions," he said.
The decision to look to international experts to advise on the process set off Jagdeo, who said that looking to foreigners to make a decision on the country's resources was not sensible.
"We are bringing in somebody from abroad to tell us what to do with the remaining blocks," he lamented.
He said if government did not want to go to auction, then it could leave the blocks so that their disposal would be a decision for other generations to make.
"You can say that we will leave it for intergenerational equity so that in the future another generation can use it or we will auction it. You don't need to get a foreign advisor," he said.
Last year, Trotman had explained that government was yet to decide how the remaining oil exploration blocks would be assigned but emphasised that "national interest" would be the determining factor.
His comments were made in light of a suggestion by government's petroleum advisor Dr Jan Mangal, who said that competitive bidding is the way to go to avoid the risk of corruption.
Mangal, in a letter, had noted that most countries had abandoned the "open door" method of direct negotiation with the interested party.
Following the discoveries made by ExxonMobil, he added, Guyana has been "de-risked" and is now in a position to use competitive bidding for the award of leases, which ensures that it leverages market forces to maximize its share.
He further stated that the risk of "government friends and family illegally obtaining leases will be significantly reduced if an independently managed and well audited competitive bidding process is used."
But legal and other experts have warned that while auctioning may be best in some cases, each country has to factor in its own unique circumstances.
'Stripped'
Meanwhile, Jagdeo also said that nothing government or anyone else says can change his belief that that Trotman has been stripped of his responsibilities for the petroleum sector, in light of the announcement that a Department of Energy, to be created under the Ministry of the Presidency, would eventually assume responsibility.
"No matter how many press releases they issue can they deny the fact that he was stripped of his responsibility. Saying now some silly excuse that he recommended the Department of Energy to be created. He was recommending the Department of Energy being created within his ministry and with him being the minister. Now, it is in the office of the president and he [was] stripped of the responsibility. He got stripped—they took it away from him plain and simple.
"This is not about doing the best thing for the sector, this is about a cover up. This is to deflect our attention from the things they have done. The atrocious contract they have concluded and the venality that is taking place…this is to deflect attention," he added.
Jagdeo said he believes that the President David Granger's absence from the recently concluded GIPEX Summit was an indication that there would be drastic changes within the Ministry of Natural Resources.
"We had an indication of this when Granger did not show up at the Marriott and he was listed to give the feature address and he refused to go there. So that was precursor," he said.
According to Jagdeo, government will try its best to give the impression to the nation that all is well within the Ministry of Natural Resources and more so between APNU and the AFC, which Trotman leads.
"Now, we can't trust our government to tell us the truth and will circle the wagon. Trust me, you will see for the next few days that the government will talk up Trotman, saying that he was the greatest thing since ice cream was invented or something like that. They may even give him a few more designations; useless designations. You will see something of that nature manifesting itself just to say he was not stripped, was not removed," he said.
The Ministry of the Presidency earlier in the week denied that Trotman had been stripped of responsibility for the sector, while highlighting the fact that he had proposed the creation of the department.
Around the Web