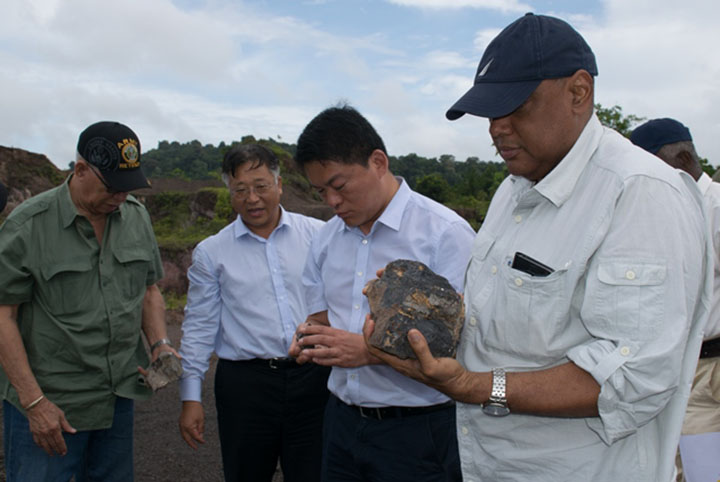 Guyana Manganese Incorporated (GMI) is on track to begin construction in July at its Matthews Ridge, north west site and around 550 persons will be hired.
On Monday, Minister of Natural Resources, Raphael Trotman, and Chinese Ambassa-dor to Guyana, Cui Jianchun, visited the  Region One mine site to inspect the progress that has been made since GMI purchased the area from Reunion Manganese Inc (RMI) of Canada.
According to a release from the Department of Public Infor-mation (DPI), GMI, a Bosai Mineral Group company, is expected to begin extracting manganese by early 2019.   Steven Ma, Assistant General Manager of Bosai's Overseas Department briefed Trotman and team.
Currently GMI employs 20 locals in the engineering design and survey phase.
GMI is investing US$100M in the first phase development. During the construction phase, the mine ore processing plant, washing plant, warehouses and factory will be built.  The company is currently procuring equipment Ma said.
The Minister stressed the importance of mining in Region One. "We'd like to see a resurgence in this region and so government is very keen on getting it started," he said.
Trotman also charged the company to honour its corporate social responsibility and singled out the community hospital for attention in this regard. "We expect you to be a good corporate citizen and to give back," Trotman said.
Meanwhile, Region One Member of Parliament, Richard Allen, said the region in particular is looking forward to the resurgence of manganese mining.
"This is a timely visit when not just Matthews Ridge or Matarkai sub-region is looking forward for the establishment of the manganese company which brings relief and lot of employment," he said.
Chinese Ambassador Jianchun said he is proud of the example Bosai has set in Linden in relation to bauxite mining and charged GMI to have a similar integrated approach in Region One.
"Through this project try to push more to let the people benefit. I am concerned that we can create more jobs for the local community," the ambassador charged. He also encouraged the company to be a good corporate citizen.
GMI purchased four prospecting licences that cover an area of 45,729 acres, exploration results, certain properties and infrastructure from RMI of Canada in November 2016.
The total manganese resource in Matthews Ridge is said to be some 26M tonnes, DPI said. Ma said to produce the manganese concentrate, the company will have to mine some 2M tonnes per year which will see the life of the operation lasting some 12-13 years, if there are no other resources discovered.
Around the Web