Veteran journalist Denis Chabrol on Monday stressed that the public apology issued by Public Security Minister Khemraj Ramjattan over his use of abusive language while recently trying to avoid questions was a public apology to the entire media corps, which must continue to stand up to disrespect.
Chabrol's comments came after he and Ramjattan shook hands and embraced following the conclusion of a press conference on Monday at the minister's Brickdam office.
Chabrol subsequently told Stabroek News that the call for a public apology was never about him but rather the entire media corps and the respect it ought to be shown. "This was never about me, but about us as a media fraternity, regardless of who or which party holds the reins of political power. The apology is an apology to the media. Mr. Ramjattan's pledge that it won't happen again is a pledge to all of us. We stood up in the past and we must continue to stand up to avoid disrespectful precedents from being set and entrenched," he stressed.
Last Wednesday at the Police Sports Complex at Eve Leary, reporters, including Chabrol, sought a comment from Ramjattan about the revocation of a gun dealership licence to the now retired Police Commissioner Seelall Persaud. Chabrol and Ramjattan had had a conversation earlier in the day during which the minister used an expletive.
Chabrol persisted in asking questions at the Eve Leary forum and this led to Ramjattan, who was at the time performing the functions of Prime Minister, saying to him and in the presence of other reporters "man you could haul yah ass."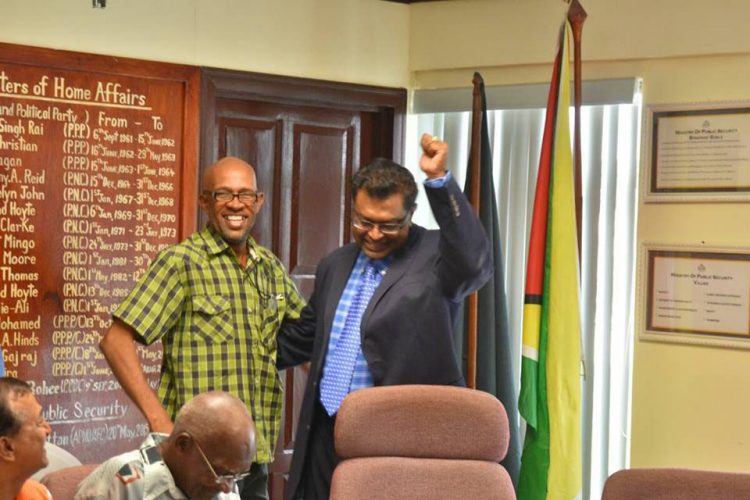 The Guyana Press Association (GPA) subsequently issued a statement condemning the minister's behaviour and calling for an apology. Chabrol is a member of the GPA's Executive.
The Association also called on President David Granger to remind his Cabinet that journalists play a major role in this growing democracy and should be allowed to do their jobs without fear or hindrance.
Ramjattan, in a letter to GPA President Nazima Raghubir, later conceded that the incident at the Police Sports Club Ground did occur.
"In retrospect I am of the opinion that, firstly, I should not have expressed my feelings on matters to Mr Denis Chabrol as I did. I always thought that he was adult enough to accept my unvarnished language especially when in a private telephone conversation. I intended him no abuse nor hostility by that expletive. From now on I assure you he will not hear anything from me of that sort. Probably not anything at all!" he wrote.
On the insult, Ramjattan said that it had been directed to Chabrol alone as he [the minister] was nearing his vehicle and that he was very sorry for it.
"I indeed plea(d) in mitigation that I was very much provoked into it after several times over indicating to him (that) I will not make any public comments about the Commissioner at the Commissioner's farewell parade. I still believe notwithstanding my reluctance to do so, his questioning me on…that score was totally out of place and wholly unwarranted. But I suppose the press is always right. And so I humbly apologise to you, your Press Association, Mr Denis Chabrol and all media workers for what transpired on February 28, 2018," he added.
Around the Web