A Golden Grove, East Bank Demerara (EBD) businessman is now seeking answers after a fire suspected to have been intentionally set destroyed the interior of his Toyota IST motor vehicle and scorched three others.
Stabroek News was told that the incident occurred between 10 pm  Monday and 2.30 am Tuesday while the vehicles belonging to 37-year-old Faisal Hydaralie were parked outside his Lot 720, Section 'C' Block 'Y' Golden Grove, EBD premises.
The fire resulted in the interior of motor vehicle, PRR 3019 being completely burnt and the other vehicles:  HC 2405, PKK 1530 and PSS 9995 being scorched.
Reports are that Hydaralie parked his vehicles in front of his premises on Monday evening before retiring to bed.
A few hours after, he was awoken by a loud explosion and upon checking, he discovered the fire.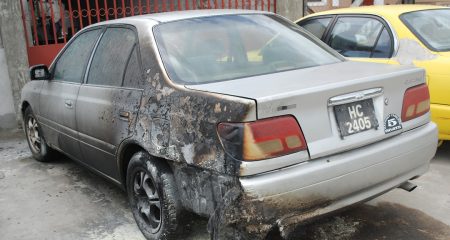 As a result, he immediately alerted the Guyana Fire Service who responded promptly and extinguished the fire.
When contacted yesterday, Hydaralie briefly related to Stabroek News that he was asleep when his brother woke him up and told him of the incident. "I really don't know what happen there. I was sleeping when my brother came and woke me up and tell me he heard an explosion", Hydaralie said.
The businessman related that he doesn't  have any idea as to what might have led to the incident while noting that that he does not have any conflict with anyone.
He said an investigation is ongoing and the police are in the process of obtaining surveillance footage which may aid in identifying the perpetrator/s.
Around the Web