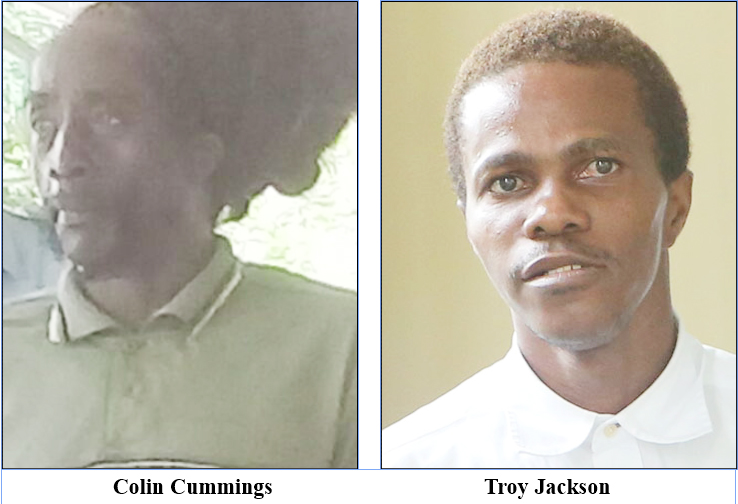 Two men who sexually molested children in separate incidents—one indicted for rape and the other for sexual activity, were yesterday jailed for 30 and nine years respectively by Justice Simone Morris-Ramlall.
They had both previously been convicted of the charges by a jury, but their sentences were deferred.
Fifty-five-year-old Colin Cummings was sentenced to 30 years for sexually penetrating an eight-year-old girl on August 20, 2016. He had inserted his finger into her vagina.
In imposing the sentence, Justice Morris-Ramlall noted that Cummings had violated a position of trust. She lamented that so trusting was the child of the offender, that she asked him to go into his room to watch cartoons.
"Instead, you violated her in the worst way possible," the judge said.
Noting that the offender used his finger to perpetrate the act, the judge said that he nonetheless stole the child's innocence, "which can never be restored."
In a stern reprimand, the judge told Cummings, "Our children must be left alone."
She told the expressionless convict that children are to be given toys to play with, and not to be used as sex toys and sex objects for the sexual fulfillment of depraved adults.
The Sexual Offences Court Judge said that such experiences impair children's ability to maximize their full potential.
"This court will continue to play its part by sending a strong message to potential offenders," she emphasized.
Referencing a probation report which had been earlier presented to the court, the judge told Cummings that it was damning, as it highlighted complaints from other persons who alleged that he had also sexually molested or had been inappropriate towards them and other children.
Though his attorney Clyde Forde had begged the judge for mercy and leniency, the judge pointed out Cummings' failure to personally express remorse for his actions.
Justice Morris-Ramlall alluded to the fact that the convict continues to maintain his innocence, despite the verdict of his peers.
She imposed a 30-year prison term on the firmer gold miner, ordering that a minimum of 25 years be spent before he becomes eligible for parole.
Counsellor and Court Support Officer of ChildLinK Guyana Inc., Celeste Mullin Presented to the court what she said were the thoughts expressed by the child in a victim impact statement.
The statement which was read to the court, sought to detail the fears and discomfort which according to Mullin, the child said she still feels as a result of the assault, and having to see him at court.
"I keep telling myself I should not have asked him to go into his room to watch cartoons that day," the statement quoted the child as saying.
Mullin said the young girl was upset at having to be absent from school, but is happy that the trial has now ended.
Probation and Social Services Officer, Shenila Wilson, by whom the probation report was presented, said that the child's mother in an interview related the many sketches the young girl would draw depicting tear drops describing herself as ugly and other terms.
She said the woman recalled having to often discard such drawings.
Wilson said that in her interview with him, the offender had not taken responsibility for his actions, maintaining that he was innocent. She, however, said that the court had a duty to impose its sentence to deter potential offenders that such acts will not be condoned in any form or fashion.
Meanwhile, in the case of 33-year-old Troy Jackson, who was found guilty of rubbing his penis against the genitals of a seven-year-old girl, Justice Morris-Ramlall noted that he had breached the trust of the child's grandmother, who had left her in his care.
The court again highlighted the prevalence of the offence, citing statistics released from the Child Care and Protection Agency, which stated that for last year alone, more than 800 children were victims of sexual offences.
In a plea of mitigation, Jackson's attorney Adrian Thompson, sought to advance the seeming "mental instability," of his client, stating that he was "slow in speech, and not too up to scratch."
According to counsel, his client did not have a "glorious childhood" and that he lost both parents at a tender age, and shortly after dropped out of school at the primary level. Thompson begged the court to consider that the offender had no previous convictions nor brushes with the law.
Thompson said that because of his client's slow speech and the difficulty he would have in verbally expressing himself, he preferred him not address the court directly, but sought to impress upon the judge how remorseful his client was as he begged for mercy.
He advanced too that his client had only tied the knot on February 26.
Justice Morris-Ramlall, however, made it clear that it was not the court's belief that the convict had any shortcomings expressing himself as she recalled him eloquently addressing the court in a statement he had given from the dock during the trial.
The judge noted that had she heard from the offender himself, the court would have been differently influenced.
In addition to another reason, she said that since there had been no penetration in the act perpetrated, he would be sentenced to a term of imprisonment for nine years, eight of which he must serve before being paroled.
Jackson assaulted the child on October 20, 2016.
Also presenting a victim impact statement which she said she took from the complainant in this case, Mullin said the child expressed to her how annoyed she was at what Jackson had done to her and the hurt she still feels.
The statement detailed the young girl reportedly conveying to Mullin that she had told her grandmother about the assault, as her mother had told herself and brother that it was wrong for anyone to interfere with them in such a manner.
"He only did it once, but I won't want him to do it again," the statement quoted the child as saying.
"I want him to be punished for what he did to me."
To speak to what he said was his client's good character, Thompson called a friend of the family who told the court that Jackson was always "a good boy growing up."
Asked whether she could account for his life as an adult, however, the witness told Prosecutor Seeta Bishundial that she could not.
The trial proceedings for both matters were held in-camera at the Sexual Offences Court of the Georgetown Supreme Court.
In both cases, the state was presented by Bishundial, in association with Prosecutors Orinthia Schmidt and Narissa Leander.
Around the Web