A number of residents of Laluni, Soesdyke/Linden Highway celebrated their 63rd anniversary as a Community Development Council (CDC) on Saturday.
According to the Region Four Public Relations Department in a release, the anniversary also saw the residents celebrating their first ever village day, which according to Aaron Defreitas, Chairman of the CDC will be an annual event.
He further noted that being an agricultural community, it would seek to further promote the many agricultural products that persons can tap from the community.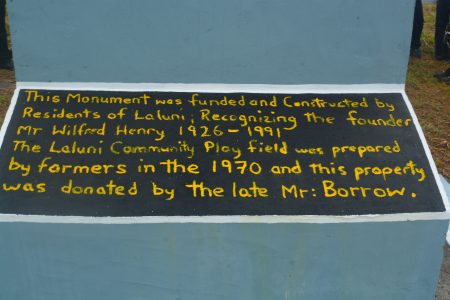 "Our village day is one that is being executed with a difference, as it allows a number of persons across Guyana to see the rich benefits of this agricultural community. In Laluni through the many products that comes from this community, we can further enhance the economic development around us," Defreitas said.
Representing Minister Sydney Allicock, was Martin Chung, Special Assistant on Projects in the Ministry of the Indigenous Peoples Affairs. The release said that Chung told those gathered that his ministry felt privileged to be contributing to the staging of the anniversary celebrations.
"This is not only a historic occasion for the residents of Laluni but also for the rest of Guyana. It demonstrates what determination, hard work, commitment and unity can achieve. You the residents, can be very proud of the legacy that has been created by the founder of this community, in Mr Henry and on behalf of the Minister, let me congratulate you on this significant milestone," Chung said.
Laluni came into being through the efforts of Wilfred Henry on 3rd March, 1955.
A monument was unveiled by Chung and Allen, while the community also hoisted its first village flag which according to Ruth Henry depicts the community of farming. She disclosed that the flag was geared towards identifying the agricultural and other benefits of the community. She added that the motto is, 'together we strive to make Laluni brighter is ideal'. Defreitas told those gathered that while Ruth is the great granddaughter of the founder Henry, she won the flag design contest held to identify their own community flag, the release added.
Around the Web