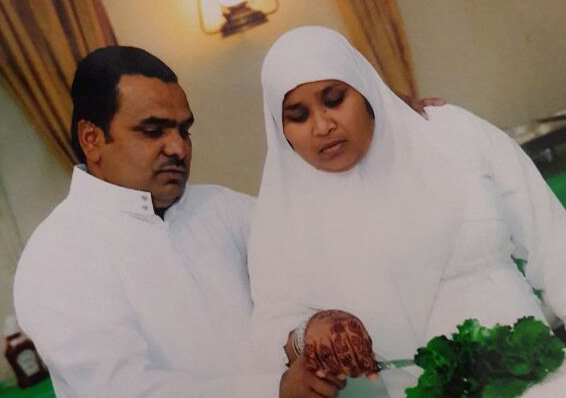 After a lengthy trial at the High Court in Berbice, a woman and her friend have been found guilty of murdering her husband Abdool Shakeel Majid, in 2012.
Majid's wife, Hemwattie Abdulla, also known as "Annie," and her friend, Seerojini Permaul known as "Usha", 49, were accused of killing Majid, a US citizen on April 26, 2012 at Number 63 Beach, Corentyne, Berbice.
The woman and her friend, who were both found guilty by a mixed jury today, stood in the dock as the verdict was read to them. Their faces displayed no emotion while relatives, who had gathered to render support, began to weep quietly.
Special Prosecutor, Ganesh Hira represented the state, while Attorneys at Law, Mursaline Bacchus and Arud Gossai represented Abdulla, and Attorney at Law, Nigel Hughes represented Permaul.
After the verdict, Hughes noted that Permaul, who had no prior interaction with the law was a mother of five. He added that she was loyal to her friends and it may have been ignorance on her part to follow instructions and asked that the time she had been remanded for, be taken into consideration.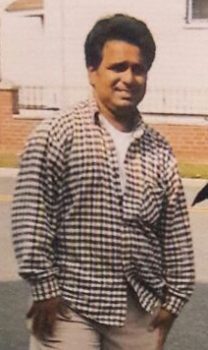 However, Hira stated that based on the results of the post-mortem, Majid had suffered a "painful and maybe slow death." He said what was worse, was that his death had been orchestrated by his wife, adding that based on the evidence, a lot of planning had gone into the murder of Majid. He noted that it wasn't something sudden or out of [self] defence, but it was well planned. The Special Prosecutor asked for the death sentence or life imprisonment.
Additionally, Hira said Permaul had knowledge and opportunity to prevent or intervene in the plan to murder Majid. He said that the role she played was not negligible and that her loyalty to her friend, which led to the murder of someone, "should not be rewarded." He added that Majid was the father of one child, who is now ten years old, and the child is now left to face the world without a father.
Majid and his wife Abdulla had returned to Guyana in April, 2012 with the intention of spending a two-week vacation. However, five days later, Majid's battered body, with the scalp missing, was found on the Number 63 Beach.
At that point in time, Abdulla had already returned to the USA and told Majid's relatives that he was in Guyana with another person and was planning to head to Suriname. The woman claimed that she had returned home to tend to her daughter since she had suffered a fractured arm.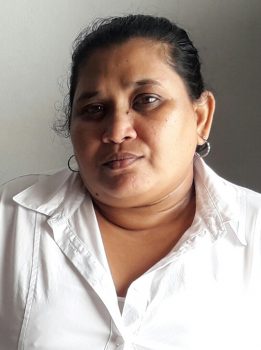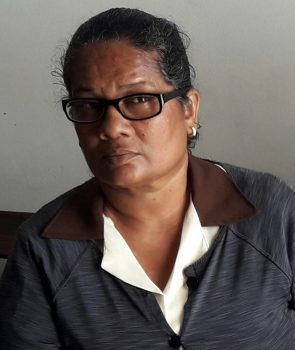 Majid's brother, Abdul Hasseeb Majid, of Jamaica, Queens, USA, who took the witness stand during the trial, had related the last occasion when he had seen his brother, and also what had led him to file a missing person's report for his brother in New York, before returning to Guyana in search of him.
Abdul testified that when he travelled to Diamond Housing Scheme, East Bank Demerara, where his brother was staying for some time during his visit, he discovered his brother's US passport, his suitcase, clothing and other personal documents.
According to the man, after being in the country and lodging several missing person's reports, he noticed in a local newspaper that an unidentified body was at the New Amsterdam Hospital mortuary. He then travelled to Berbice where he identified the remains to be that of his brother.
On 22 May, 2012, during the investigation, a white gold and diamond ring was shown to him which he identified as belonging to his brother. He said that on 24 May, 2012, his brother was laid to rest at West Coast Demerara.
Abdul had said that Abdulla had claimed to his brother that she was pregnant. On 3rd December, 2011, Majid and Abdulla had gotten married.  However, together the couple had had no children. He also relayed that in 2007, Majid, who had been a taxi driver in New York City, had been involved in an accident, resulting in surgeries and months of being at home, and that he had been awarded a settlement.
Meanwhile, another one of Majid's brothers, (with whom he shared the same mother), Zahier Thomas, testified to seeing his late brother and his wife, Abdulla, at his Greenwich Village home on 23 April, 2012.
Rental car
He said that Majid, his brother-in-law, and Abdulla had arrived in a rental car. The man said that Abdulla had informed him that they would be heading to Diamond, East Bank Demerara, where they would be staying, and then they were going to Berbice for a visit.
However, on 11th May, 2012, after receiving a telephone call, he contacted Abdulla, first by telephone, and then in a face to face visit, where he questioned her about his brother's whereabouts. He stated Abdulla had said that she had gone to Suriname through the 'backtrack' route to look for her husband, however, after she came back empty-handed, she placed a missing person's advertisement in the local newspapers and on television. He added that she had also claimed to have done an 'open book', according to which, Majid was alive.
Meanwhile, one of Majid's sisters-in-law, Beverly Majid, in her testimony had stated that she had shared a close relationship with Abdulla who would visit her home daily and also engage in hour-long conversations on the phone. Beverly said that Abdulla, after returning from overseas, had visited her. At one point, Beverly said that she encouraged Abdulla to return to Guyana to look for her husband, but she noted Abdulla had said her daughter's birthday was coming up and she could not make it.
Beverly had told her that that was not important at that time. Beverly had also testified that Abdulla had claimed that Majid had called her on his father's birthday and had spoken to her and his father.
However, on 8, May, 2012, the accused said she was returning to Guyana to look for her husband. Some five days later she called Beverly and said that she had gone to Suriname where three dead bodies had been shown to her, but none of them was Majid's. Beverly then travelled to Guyana on 22 May, 2012, after the family became aware that her brother-in-law had been murdered.
Shazad Ally, a taxi driver of Adelphi Village, East Canje, testified that he was hired by Abdulla's brother to pick her up from the Cheddi Jagan International Airport, Timehri  during the month of May 2012, when she was returning in search of Majid. He said, returning from the airport, he heard Abdulla telling her brother that she had just come to check for her husband, Majid, who had gone to Suriname, hence she would not be staying for a long period.
Detective Corporal Dwayne Harvey, had testified to seeing the 'scalp-less', battered body of an unidentified male East Indian, dressed in a multi-coloured shorts at the Number 63 Beach on 27, April, 2012. The body which was covered with marks of violence had the left arm broken, and one finger had a ring with three stones. After photographs were taken, the body was taken to Skeldon Hospital and then the New Amsterdam Hospital, where two post-mortem examinations were conducted at the latter, he said.
Harvey also recalled that it was on 15 May, 2012, Majid's body was identified by his brother. Five days later, he contacted Abdulla, and with the assistance of a female rank took her to the Criminal Investigation Department (CID), where Detective Sergeant Joseph told the accused of the allegation that she had murdered her husband.
After a voir dire, which was a result of Hughes and Bacchus objecting to the statements, contending that there were a breach of Rule Two of the Judge's Rules and other legal issues, Justice Sandil Kissoon had ruled that the statements given by the accused were free and voluntary.
In Abdulla's statement, she had said that she had visited Permaul and told her that she was encountering difficulties with her husband and she wanted her (Permaul) to find someone to kill him. She also said that she given US$5,000 to Permaul to find someone.
However, Permaul in her statement had claimed that Abdulla had given her the money one day before the murder, and had told her to give to it to her son-in-law, Pooran Jaundoo, who is presently remanded.
The duo will return to the High Court on March 29 at 1.15 pm for sentencing.
Around the Web