A fire, suspected to be electrical in origin, destroyed the Supply, East Bank Demerara home of a family of six on Monday afternoon.
The fire started around 3.30 pm and quickly ripped through the Lot 17 Supply Public Road single-flat wooden house occupied by Verneta Ossorio, her husband and four of their five children, ages 5, 3, 2 and 15.
Ossorio yesterday related to Stabroek News that at the time of the fire, she and three of her children were at home. The woman said she managed to save no valuables since rescuing her only daughter, who was sleeping in the house, was her main focus.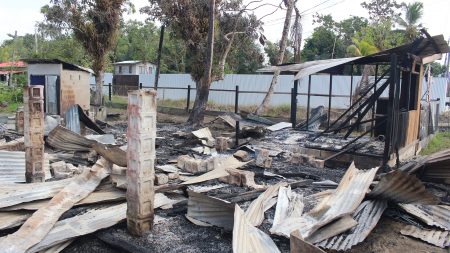 "I was sitting on the step and this lil girl [her daughter] come home and she go in and sleep," Ossorio said. "Me sit down on this step and me ain't tek no notice, like me ain't get no fire smell or nothing and then me big son come from town," she added.
She said she and her eldest son were in a conversation after which he left and went into the house. "He holler out fuh me and seh look something, so I thought was, you know, something up here in the house and then …he seh 'Come! Come! Come! Is fire!'" Ossorio related.
She said in shock she ran into the house with her youngest child sleeping in her hands in search of her daughter. "When I run in, I see there was fire all over the house. The fire done went all ova," Ossorio said. She added, "Suh when I run in, I don't know wuh more fuh do, I forget she on the bed sleeping."
The woman said she then turned and asked her eldest son if he saw his sister but he responded in the negative. "Suh I holler and ask he, 'Weh Jamacie? Weh she deh?' Ah she, 'Oh shucks, she deh on the bed,'" Ossorio said.
The girl was subsequently rescued by her eldest brother. Ossorio explained. "He just run and scramble she by she foot and I tek she and pull she by she uniform and I tell she run outside."
While all this was happening, her husband, who works as a painter, was at work. He received a call informing him of the fire. By the time he got to the location, the house was already burnt to the ground.
The family, Ossorio said, is currently staying at a relative's house in Georgetown.
Anyone willing to offer any assistance can contact Ossorio on telephone number 680-6190.
Around the Web