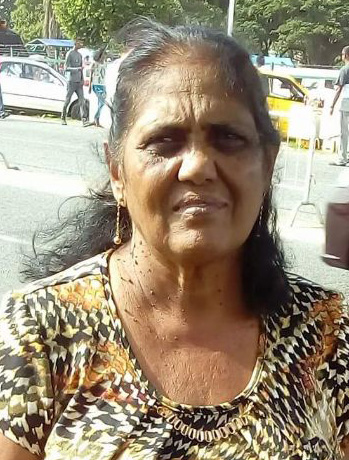 The police say they are investigating the murder of 68-year-old pensioner, Ursilla Padarat, also known as 'Data', of Belle West Housing Scheme yesterday morning.
Padarat, who resided at Lot 556 Masjid Street was discovered in a sitting position on a chair in her house with a wound to the neck and another to the head, the police said. The body is presently at the Ezekiel Funeral Home awaiting a postmortem examination tomorrow. The police said that no one is in detention at this point.
Stabroek News was told that Padarat was found minutes after 7 am with what looks like a stab wound to the neck. She was found by a neighbour who claimed that she usually cooked for him. The woman was said to have had a pen and book on her lap at the time she was found.  The man said that only the previous night he had spoken to her and left her around 7 pm instructing her as usual to lock her door and gate.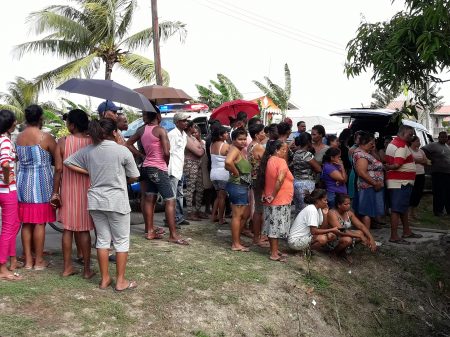 "She like a mother to me. She tell me last night to come this morning….she had a septic tank to build. I come this morning and see the gate open. The door was lock from outside and so I bust the door and go in. When I go in I see she lie down pon the chair and I go and touch she and I say 'Mama' and when I watch she I see blood all over she neck and I run go tell them neighbours", the man related.
On Saturday, the woman celebrated her birthday and was in high spirits, telling relatives and friends what she would do for her next birthday.
Neighbours said that Ursilla was always giving and kind and whenever she had anything would call out to them as they were passing on the road to send sweets and other delicacies for their children and grandchildren and would go as far as inviting people in to have food. Neighbours told Stabroek News that they didn't hear any sounds coming from the house at any time during the night. One neighbour said she warned Ursilla regarding having her gate open late at nights and allowing persons to come over and watch television.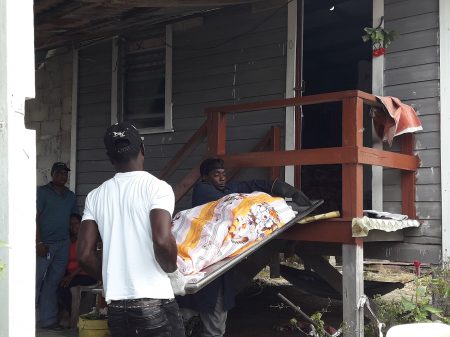 Ursilla's grief-stricken daughter, Sharda Persaud told this newspaper that her mother had visited a niece at Diamond, East Bank Demerara this past Monday and had wanted to stay over but decided against it since work for the septic tank was supposed to start on the morning she was found. That Monday night at 7.55, Sharda said that her mother called up a relative to find out the cost for materials needed for building the septic tank.  According to Sharda, Ursilla told the relative over the phone that the man  responsible for the work was seated next to her. However the man did not show up for work as was scheduled yesterday and police who were said to have showed up at his residence in Belle West did not find him. The woman further said that according to the police her mother is believed to have died early that night.
A nephew who wishes to remain anonymous said that his aunt had only on Monday received $123,000 from a grandson in New York but that was missing along with her handbag that the money was believed to be in. Missing also was a purse, he said that she usually keeps  on a nearby table along with her phone and the pair of earrings she was believed to be wearing at the time. According to the nephew, relatives believe whoever was with her was invited into the house as she usually locks up her gate. He added that the padlock used to lock the gate was a sturdy one and couldn't be broken easily and therefore if it was locked she would have had to open it for whomever entered. The man said also that police retrieved a haversack believed to belong to the person who was with her at the time of her death.
Ursilla leaves to mourn a daughter and son and other relatives.
Around the Web