The need for more mentorship of women in business and the narrowing of the pay gap between men and women were highlighted by Chief Executive Officer (CEO) of Caribbean Containers Incorporated, Patricia Bacchus during an International Women's Day event held last Saturday.
The event which was held in the Promenade Gardens was hosted by the High Commission of Canada in collaboration with the Ministry of Social Protection, and featured several cultural performances and exhibitions by at least 20 different agencies, both governmental and non-governmental.
Meanwhile, Bacchus in her address said, "We've all heard of mentoring and removing the glass ceiling, but now mentorship is perhaps the most important element necessary for upward mobility whether you're a man or a woman; for women, we are already starting with the disadvantage of gender role assumptions and biases, and good mentorship becomes very critical. Business leaders whether male or female must actively engage in mentoring young talent and ensure that women  in the workplace are given exposure to various aspects of the business outside of their portfolio so that they can learn more, so that they can expand their ambition, they can monopolize on the opportunities that come their way."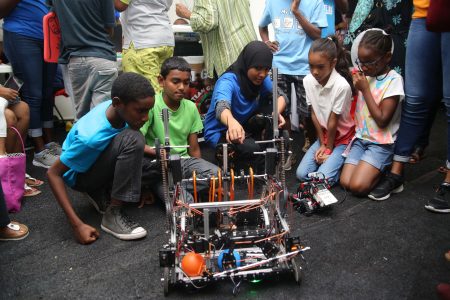 "We need to curb the assumptions that women in the workplace are not interested in technical issues and stop excluding them from the discussions about power generation, or efficiencies or operational best practices or machinery for it is only through exposure to diverse issues within the business that a woman can rise up and shatter that glass ceiling and her mentors are a critical part of enabling this," she added.
Bacchus also spoke on equal pay for work of equal value, as she noted that even if companies accomplish a greater participation by women in the labour market, it would count for very little in the gender parity if active steps are not taken to close the pay gap.
"The gender pay gap is directly correlated to the assumption that a woman is incapable of performing her functions with equal or greater competence than a man…Businesses and all other employers need to ensure that in establishing a salary scale, emphasis is placed on the nature of the job and the prevailing market rate for the job, and not the gender of the job holder. Businesses, whether on their own accord or via the imposition of legal, enforceable, provisions, must put policies in place that support gender parity and remove conditions of bias," she added.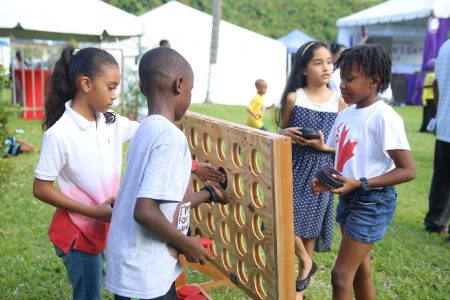 Equally important, Bacchus said, is the need for companies to review their recruitment process to one that is more inclusive.
"Traditional roles and its related biases most times manifest themselves during the recruitment and hiring process. Very often, applications from women are not even considered because employers have a preconceived notion that the job requirements are not appropriate to be carried by a woman. This is common in fields such as engineering, equipment operations, manufacturing and other technical disciplines. Many employers instead, seek to hire women for support roles such as secretaries or janitorial staff," she stated.
Meanwhile, Lilian Chatterjee, Canadian High Commissioner to Guyana in her address, said, "International Women's Day is an occasion to remember the struggles of women throughout history; we do this because it is important to know where we come from, but also because we must never be complacent when it comes to human rights. They were not just handed to us, we had to fight for them, we had to fight to vote, we had to fight to receive full access to education, we had to fight to be able to leave the home and work, we had to fight for control over our own body, we had to fight to have a seat at the decision making table and the fight is not yet over."
"I know to some it might seem as though we are taking over, but don't worry guys the majority of the seats at the table are still occupied by men. Despite all our efforts, gender parity is still a myth in the boardroom, and even in politics, that's why every time another woman rises to the top, we all celebrate because it is so rare," she added, before sharing with the audience her experience as being only the second woman to hold the position of High Commissioner of Canada to Guyana.
Chatterjee, noted that it was not unusual that on more than one occasion when the High Commissioner of Canada is introduced to strangers, she found them looking past her shoulder, waiting to be introduced to a "Mister High Commissioner."
Also present at the event were First Lady Sandra Granger and Minister of Social Protection, Amna Ally who gave overviews of existing projects and programmes designed to empower women.
Around the Web