The guards providing services at government buildings in Region Five yesterday held a protest demanding that the contract be taken away from the security company and awarded to someone else, as most of them are still awaiting January wages.
In February, the guards had complained that two months' money was owed to them by Integrated Security Services, however, they have said that most persons have since received one month's payment at a rate of $225 instead of $255 per hour.
The guards throughout Region Five downed tools yesterday and held the protest opposite the region's compound, shouting for the project to be taken away, as well as "REO got to go", in an effort to convey their disappointment at the Regional Executive Officer (REO), Ovid Morrison, who they believe did not represent them as he should have.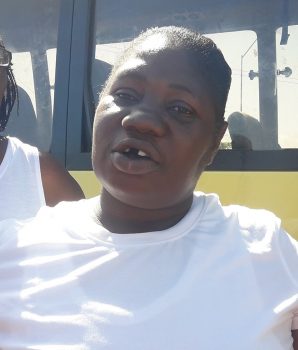 One worker, Ernet La Rose, 45, stressed that the protest had nothing do with political affiliation but rather was about workers demanding what they deserve. The woman said, that she was dismissed last month after she went to the media to vent her plight.
"They said I was bringing down the company…As of now, we waiting on our rest of money for December and all of our February money, they are not paying our NIS and we need pay slips".
Katy Fraser, 32, from Number 29 Village, West Coast Berbice, explained that her daughter last week suddenly fell sick. The woman said her daughter has since been diagnosed with sickle cell. "She need blood, I need my money to run behind my daughter, I calling them in Georgetown and now them blocking me number", relayed Fraser.
Fraser stressed that presently her mother is assisting financially with her daughter but that she is in dire need of her salary.
Chairman of Region Five, Vickchand Ramphal, yesterday stated that the guards have a right to protest because the "company is not fulling their mandate".
Ramphal stressed that his office had engaged the CEO of the company who promised to pay the guards "but up to today they have not received their full payment".
He  added that many of the guards have loans, bills and other financial commitments and "when they cannot have their salary on time it of course affects everyone".
He said he hopes that the government will step in to ensure that the people would be treated fairly, "… this is not anything about race, politics, religion but it's about our poor working class people not being treated fair in this region, and there is need for much more unity and cooperation in Region Five to address all this issues that are affecting our people".
Stabroek News attempted to speak with Morrison, who stood inside the Regional Democratic Council  compound driveway watching on at the protest, however, he said the media should speak with Ramphal and PPP/C MP Harry Gill, who was present and that the matter does not concern him.
However, APNU+AFC Regional Councillor, Abel Seetaram who was also present told the media that the company is failing the workers they have employed. "We at the region on the government side at the RDC are very supportive of this protest because at the end of the day people need to survive ".
He said, he will be raising the issue today at the RDC level, "and if there is a clause in the contract that says that it could be rescinded, then we will be following that", relayed Seetaram.
Meanwhile, PPP/C Member of Parliament,  Gill again highlighted that he made several attempts to engage the Minister responsible for  labour, who he says has been avoiding the issue. Additionally, Gill said on two occasions the CEO of the security company promised to meet with the workers to discuss the issue  but he never did.
Gill, too, said he believes someone in the government is covering for the company, since no top ranking official has stepped in to hold the company accountable on behalf of the workers.
Around the Web