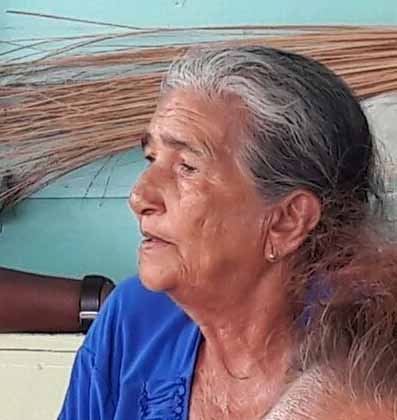 A Number One Village, Corentyne 72-year-old woman yesterday midday lost her house and all of her belongings in a fire suspected to be of electrical origin.
When Stabroek News arrived at the scene of the fire, Noobeer Khan, 72, who resided alone was sitting at her neighbour's bottom house crying uncontrollably.
Her son, Wazir Khan, 48, explained that his mother was sitting in her hammock underneath her two-storey wooden house when a neighbour informed her that flames were emanating from the back room located in the upper flat of the house.
According to the son, his mother panicked immediately and began to scream for help when neighbours, who called the fire service rushed to her assistance.
Khan said his mother relayed to him that there was "blackout" in the area and when the electricity returned to the area, the electrical wires attached to the house from the pole began to spark.
"When the current come back on, it hit the front and it start spark and then the main switch, fuse box and so deh in the bedroom at the back, weh them people say them see the fire from", relayed Khan.
Meanwhile, the pensioner is estimating her losses to be close to $15M. It was relayed, that the woman only a few months ago began to repair and repaint the entire house. This newspaper was told that the woman could only save a bag containing all of her important documents.
Clive McDonald, Second in Charge of the New Amsterdam Fire Station, who was present on the scene told Stabroek News that they received a call that there was fire at Number One Road Palmyra sometime around 12.30. However, he said when the two vehicles arrived in the Palmyra Area no smoke was spotted but a subsequent call confirmed that it was a fire at Number One Village, Corentyne.
He noted that the Rose Hall fire tender was also dispatched to the scene and the fire-fighters when they arrived at the scene noticed that the entire house was already engulfed in flames, as such they immediately went into operation to "stop the fire from spreading".
The Guyana Power and Light Inc also arrived on the scene yesterday to conduct an investigation.
Relatives said Khan will be staying with one of her daughters until they are able to rebuild a structure at the location for her to reside.
Around the Web