With police admitting that one of the three accused robbery suspects killed along the Seawall Public Road, in Georgetown did not have a criminal record as they had claimed, the families of the men yesterday called for an inquiry to be mounted as they maintained the belief that the men were unlawfully killed.
Dextroy Cordis, 46, called "Dottie" of Lot 4 Grove Public Road, East Bank Demerara, Kwame Assanah, a former soldier, of Buxton, East Coast Demerara, and Errol Adams, 57, called 'Dynamite,' of Dartmouth, Essequibo Coast and also Buxton, were shot and killed on Thursday after police said they opened fire on ranks who had interrupted them during the commission of a robbery.
Police had said two of the men, Cordis and Assanah, had reportedly trailed a customer of a city bank to the seawall location.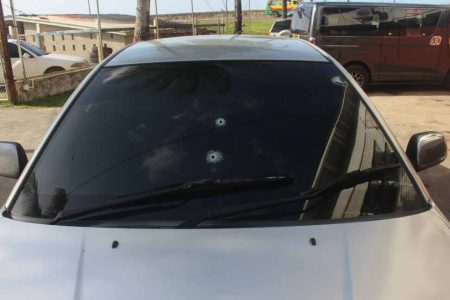 However, the families of the three men yesterday said they were not buying the police's account of what occurred and vowed to leave no stone unturned as they seek answers.
Assanah's family members said they would be seeking legal advice and would be hiring private investigators to uncover the truth.
"We are asking for a complete inquiry as to how and why he was killed," his widow, Claire Assanah, said. "He is not this person that they are saying. He has no criminal record, since we have been married, since we have been together. I have not bailed him out from any prison… or anything. He doesn't have a criminal record. He doesn't," she maintained.
'Not known to police'
The Guyana Police Force, through its Public Relations Department, had issued a statement on Thursday describing the three men as "trunkers," while noting that each had a criminal record.
As a result, Assanah's brother, Lawrence Assanah, a member of the Guyana Defence Force, and his sister Shamaine, an Analyst at Qualfon, yesterday morning visited the office of Crime Chief Paul Williams to address the claim.
"We basically went to the Crime Chief office to let him know we are aware and we won't buy what the report says about our brother," Lawrence told Stabroek News. "There are numerous inconsistencies [in] the entire shooting and everything, so we basically went there to let him know this is what we think and we are going to take it to the next level, where we have lawyers involved and private investigators to get more details and it's not to bombard the police and say 'you're this and you're that' but the inconsistency… they made a report to say he was arrested on previous occasions and no family or anybody is aware of this," he added.
"We want the public to know that the post they [the police] have out there, everything, is false because the police confirm that they don't have anything, the Crime Chief confirm that they don't have anything of such and he did not give his department any such information on Kwame… so, he don't know where that information come from," he added.
When contacted yesterday, Williams told Stabroek that clearly something went wrong in the passage of information to the force's Public Relations Department on Thursday. "Nothing was known about him [Assanah]. I did not give them anything," he said.
He clarified that records only revealed that Cordis and Adams were known to the police, while nothing was found in relation to Assanah. "We are making diligent checks in all aspects to see if they [the police] can find anything," he noted.
Williams added that the case is still being investigated and noted that the police are seeking to have every question answered in the final report. "In the final report, we must be able to give everything," he said.
When asked about the intended victim, he said that the individual is also being interviewed as part of the investigation.
'Kwame dead'
Claire Assanah told Stabroek News that Kwame was recently granted a police clearance to start a job at Courts as a debt collector. She said he was supposed to be at work at the time of the shooting.
Kwame previously worked as a supervisor at a private security firm and also trained to be a pilot before he was forced to discontinue his training due to financial circumstances.
He also worked as a taxi driver in his spare time. According to Claire, the possibility existed that Kwame had some time and was on a hire when the shooting unfolded.
The grieving woman also showed telephone records of calls she made to her husband prior to his death.
"Lil after 9, I call him and said, 'Babes I want you to come talk to Jeremy (their son) because he is misbehaving.' So, he said, 'Okay Babes, I will come around midday time,' she said, while noting that it was near his lunch time.
After he did not show up, Claire said she called her husband again to ask what held him back. "When I called him back around minutes to 12, he said 'Babes, I am busy at work. I can't come right now. I am gonna come in the afternoon. When I collect him, I am gonna talk to him,'" she said.
The next time she called, she said the calls went unanswered. "On the fifth call, somebody answer the phone and I said 'Who is this?' And I said, 'This is Claire, I would like to speak to my husband. This is my husband's phone,'" she added, while noting that she heard a rank saying, 'Is Kwame wife! Is Kwame wife! Kwame dead! Kwame dead!" Claire related.
Lawrence described his brother as his best friend. "He is the one that guided me, he is the one that pushes me, we help each other along the way and we have never actually been in any kind of robbery, we talk to one another," he said.
He added that they grew up without a father and brought up their siblings. "….We go if we got to go sell, we sell genips and biscuits and those kind of thing in town and we come up like that with the support from our mother and grandparents," Lawrence noted.
'He ain't deserve this'
Yulanda King, Cordis' common-law wife, also maintained her belief that the man was unlawfully killed. "No crime was committed. They murder them. He is a human being. They kill him like an animal. He ain't deserve this," she said.
The woman believes that even if the men were about to commit a robbery as police have claimed, they could have been apprehended without being killed.
"They coulda shot he in his foot and arrest he and place he before the court or so, not shoot he to kill he," she said, while noting that her family is also seeking answers from the police about what transpired.
She admitted that her husband is known to the police and knowing the individual he was, she said he would have cooperated rather than retaliated in such a situation.
Yulanda said she last saw Cordis on Thursday morning when he left home. "I didn't see where he was going or what he left in, if was a bus or car," she said, while explaining that the man was known to have kept to himself.
"He don't seh he business. Sometimes, he don't even sleep home here. Is 'cause I got he children them and meh son writing Common Entrance soon and so I don't really follow up with he and tell he nothing," she explained.
Yulanda also admitted that her husband had several brushes with the law and was charged before but she said he was never found guilty to any of the offences.
"They does pick he up nuff. Is only last Thursday they pick he up and put he on couple ID parade and he come out Saturday on bail," she said. "They didn't saying sometime back too he was the mastermind for thieving some stockfeed… plus he get charge for drugs and so already but all them matters get dismissed," she said, while saying they were "frame" charges.
Prior to his death, Cordis was unemployed. Yulanda said he previously worked as a miner in the interior but due to the time needed to deal with a traffic case he had ongoing before the court, he was replaced.
Meanwhile, up to late yesterday afternoon Adams' wife and other relatives were also seeking answers from the police.
Questions
Relatives of the dead men, including Lawrence, who is experienced in the military field, raised several questions in relation to how the police said the shootings occurred, while insisting that the explanation given does not add up.
They questioned why Assanah's car bore no bullet holes and why only one gun was recovered when two persons [Assanah and Cordis] were killed initially. If only one was armed, they questioned what threat the unarmed man posed, resulting in him being shot dead. They also questioned where the intended victim and his vehicle were at the time of the shooting.
Up to yesterday, the police were sticking to what they initially said in the statement about the circumstances leading the shooting of the men.
The force had suggested that Cordis and Assanah were identified to them as "two suspicious looking characters" spotted in a car in the vicinity of ScotiaBank around 10.30 on Thursday morning.
As a result of information received from "operatives," the police said they were trailing the men in an unmarked vehicle and determined that they were following a bank customer, who eventually parked along the Seawall Public Road at Kingston.
"At this time the two suspicious looking characters in the motorcar, drove up to the customer's vehicle and exited, one brandishing a small arm at the customer," the statement had said.
"At the same time the police anti-crime patrol, which by now was in close proximity called out to the suspicious looking characters but the one who was armed discharged several rounds at the police who returned fire," it added.
As a result, Cordis and Assanah were fatally shot.
The statement went on to say that seconds after the exchange of fire, two men were spotted on a CG motorbike near the dead men's vehicle and one of them opened fired on the police, who again returned fire.
As a result, police say Adams was fatally shot, while his accomplice sped away on the bike.
Following the shootouts, police say they recovered a 9mm pistol along with a magazine containing seven live rounds and four spent shells next to the body of Cordis.
A further search conducted on the Toyota IST car, PTT 9034, uncovered a number of items. "The motorcar which was driven by the now deceased Assanah was searched and the following items were found therein a supernumerary precept, one driver's licence, ten passports belonging to himself and family members, a key used by trunkers [robbers who steal from vehicles], two handcuff keys, a bandana and clothing," the statement added.
Around the Web