A first of its kind detergent refill centre has been established at Third Avenue, Diamond Housing Scheme, on the East Bank of Demerara, to provide consumers with quality cleaning products, while promoting the reuse of plastic bottles.
Owned by Melissa and Duane Younge, the Tidy-Up Detergent Refill Centre will offer refilling of detergent bottles with products from the Tidy Up line of household products for a fraction of the cost of store bought options.
"It was set up as refill centre as a response to the impact plastic bottles have been having on our community and so we have set up a space for residents to reuse their bottles to refill liquid detergents that have been manufactured locally," Duane said at the launch last Saturday, while noting that the centre is the first of its kind in Guyana.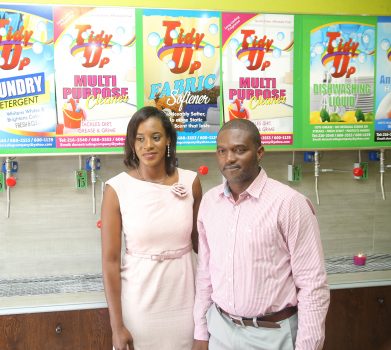 At present, the Tidy-up line of products is manufactured by Dunae Trading Company, a local manufacturer of liquid detergents and sanitizers. The products, which were also unveiled at the launch, include dishwashing liquid and antibacterial hand soap, multipurpose cleaner, liquid disinfectant, liquid laundry detergent, fabric softener, Eco-guard car wash liquid and Eco-guard Degreaser Liquid.
Offering some background, Melissa said the work began about five years ago in their laundry room, where they experimented with their own ingredients before they were finally able to find the perfect formula to produce a product that is of both quality and affordability.
"We started actually in our laundry room with simple items—a bucket, a paddle and we worked with the ingredients. We made our first batch and we have reformulated and reformulated until we found the perfect formula that works in terms of providing quality," Melissa added.
Commenting on the quality of the products, she said, "One of the things we pride ourselves in is the quality of the product; we have worked tremendously on providing a quality product that is still affordable for the homes and most importantly our brand is local. So, I think it's one of the things that the Guyanese public can be very proud to have; a local detergent brand that works and is affordable."
In terms of cost, Duane said, "The cost will be a fraction of what you would pay in the supermarkets. Take, for example, your standard 500 ml bottle that you full will hand soap that may cost you say about $300 or $400, you would be able to full this now for $100 or $200 dollars because you are removing the most expensive [component], which is really the bottle. You are removing that and asking people to be environmentally-conscious and bring your bottles and fill it here."
Meanwhile, the refill centre itself was established in partnership with the Small Business Bureau, from which they were able to access a low carbon development initiative loan.
"We were able to benefit from the low carbon development initiative loan where the small business bureau partners with Republic Bank and GBTI and through that initiative we were able to access a low interest rate low to be able to set up the business along with equity and financing," Duane explained.
Duane also said the investment in the centre is "very large," while noting that it just a spinoff of the Tidy Up line, which has its own manufacturing facility.
However, he added that with time they are looking to have their own Tidy Up detergent refill franchise.
"The 3R initiative, which is the detergent refill centre we are setting it up as a franchise, all you see here is the capacity for other small businesses and any entrepreneur who would like a centre like this to set up in their community. The aim  of this is to have this as a community focus project, so any community can set up a refill centre, young entrepreneurs can come and say, 'Hey, we have a space and we want to set up a Centre in our community we will manufacture and supply detergent, we will help you set up,'" Duane said.
"We are on a mission to ensure that not one plastic bottle finds its way in a dumpsite or a waterway to clog it," he added.
Asked about the location of the first centre, Duane noted that Diamond was chosen as the first location because of its large population and household numbers.
"Diamond being one of the upcoming communities, one of the most developed, we thought this would be one of the best where we can make a good impact, given the population of the scheme and the number of homes we have here. All our products are home products and we thought that this would be the best place to start. But by no means will places like Sophia, Parfaite, Tuschen, Eccles etc., be exempted from this," he said.
Around the Web