A brazen afternoon robbery committed on Ultra Waters on Camp Street yesterday has resulted in the loss of the day's earnings along with some of the staff's wages.
Proprietor of Ultra Waters, located at 194 A Camp Street, Clifton Douglas told Stabroek News today that the incident unfolded around 5:26 pm. The water business, which operates on a 24 hours basis, was operating as usual when two men approached, one with a bottle, posing as customers.
According to the owner, the men stopped near the pump, which is located in front of the building, attached to a portion of the gate, and then walked through one of the gates that was left open and directly into the manager's office.
Douglas noted that when the men entered the office, the manager was preparing to pay one of the staffers. This newspaper observed in video footage taken from the facility how the incident unfolded.  The two assailants entered the office, one clad in long dark pants, a black jersey and a toque, while the other wore short khaki pants, a white jersey and a red hat. Both carried what appeared to be firearms.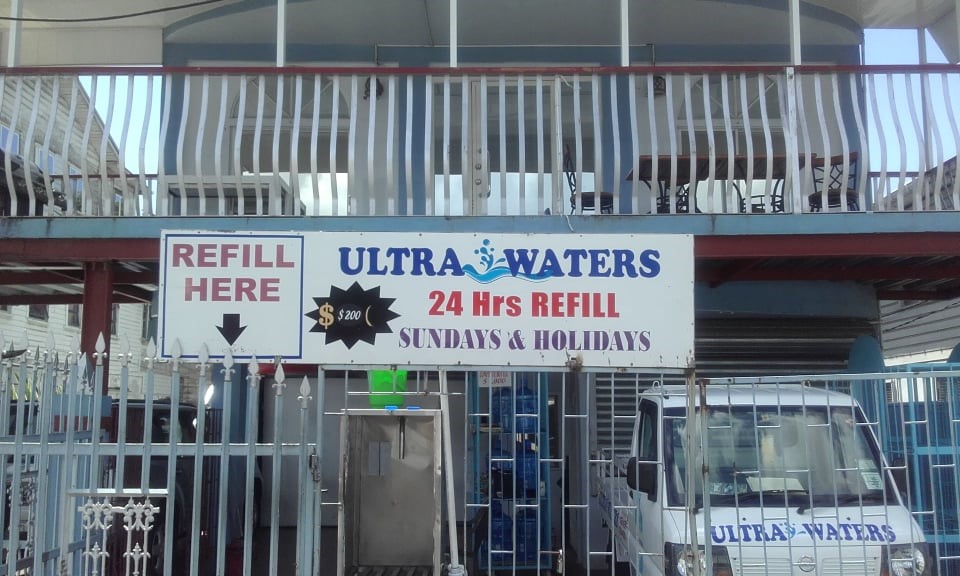 The first individual, wearing the toque, approached the manager hitting him in his head with the weapon and forcing him to the floor, removing his wallet and other items from his pocket. He was then seen ransacking the drawers and removing items. He then collected the bag of the employee who was being paid and placed the items he removed from the drawer into the bag.
Shortly after,  the second suspect entered and can be seen in the video searching the pockets of the employee as the manager lay on the floor.
After the robbery, the men were observed leaving the facility, concealing their weapons and heading into a parked dark-coloured vehicle, which appeared to have someone waiting.
According to Douglas, the men escaped with all the day's sales from the drawer and a few of the staff's wages. He said the manager suffered injuries to his head, which required stitches. However, he noted that the manager is recovering well and should be able to return to work shortly.
Douglas noted that the matter was reported to the police who visited the scene and took fingerprints.
Around the Web