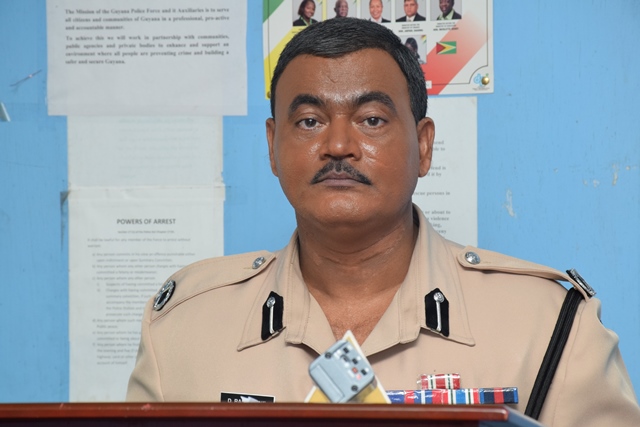 The recent fatal shooting of the three accused robbery suspects along the Seawall Public Road, in Georgetown, was justified, according to Commissioner of Police (ag) David Ramnarine, who yesterday warned that failure to swiftly apprehend the lone escaped suspect could result in an act of retribution.
"The specific details can always be debated but at the end of the day the evidence is there that they were part of a criminal enterprise. So, whatever specific actions they might have played on the day in question…you cannot escape the point… it is inescapable, the fact is they were part and parcel of an arrangement to commit a criminal act with some serious consequences and I am happy that has been aborted," Ramnarine told reporters following an event at his Georgetown office yesterday.
He said efforts are being made to apprehend the suspect who fled on a motorcycle, while noting that he is known to the police. "We have some information on him, we have a place and if we don't get to him—from a law enforcement perspective, quite early—the information suggests that there may be an act of retribution," he disclosed.
Dextroy Cordis, 46, called "Dottie" of Lot 4 Grove Public Road, East Bank Demerara, Errol Adams, 57, called 'Dynamite,' of Dartmouth, Essequibo Coast and also of Buxton, East Coast Demerara, and Kwame Assanah, a former soldier, of Buxton, were shot and killed last Thursday after police said they opened fire on ranks who had interrupted them during the commission of a robbery.
The force, in a statement, has said both Cordis and Assanah were identified to them as "two suspicious looking characters" spotted in a car in the vicinity of Scotiabank around 10.30 am last Thursday, before later trailing a bank customer to the seawall location.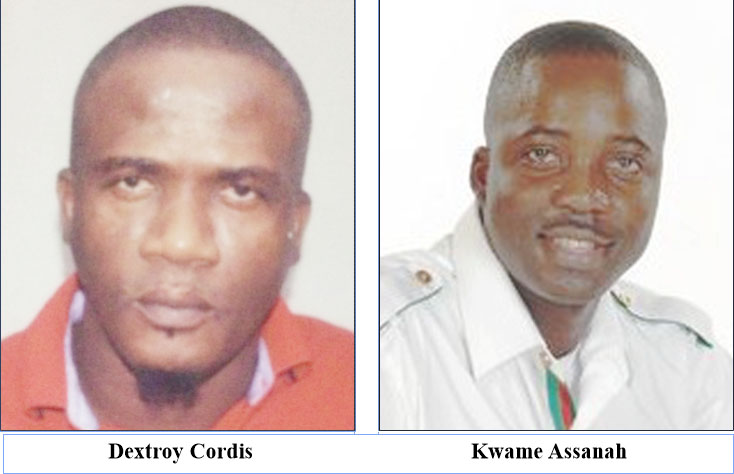 "At this time the two suspicious looking characters in the motorcar, drove up to the customer's vehicle and exited, one brandishing a small arm at the customer," the statement said.
"At the same time the police anti-crime patrol, which by now was in close proximity called out to the suspicious looking characters but the one who was armed discharged several rounds at the police who returned fire," it added.
As a result, Cordis and Assanah were fatally shot.
The statement went on to say that seconds after the exchange of fire, two men were spotted on a CG motorbike near the dead men's vehicle and one of them opened fired on the police, who again returned fire.
As a result, police say Adams was fatally shot, while his accomplice sped away on the bike.
'Deadly intentions'
Ramnarine said the police were thankful for the intelligence they received from "operatives" but also credited intensified surveillance.
"….And the information I would want to say we are very thankful for, because it was timely, it was accurate," he noted.
He said a lot of information and support has also been coming from the people who were affected "…and by sources out there, a number of whom would have to remain unknown which indicated to us in a very definitive way that this criminal act would have occurred with the potential for deadly force to be used by the suspects."
The Commissioner said he is thankful that the Criminal Investigation Department (CID) and another major department of the force "were quickly abled to operationalise" the intelligence.
Ramnarine added that if the robbery had unfolded along Robb Street, a lot of collateral damage would have occurred. "…And it is good that it ended up on the seawall, in a more desolate location, it is good," he said,
Ramnarine also expressed satisfaction that the ranks conducting the operation were well trained since he noted that based on intelligence the intentions of the deceased included the of use deadly force. "The three guys, who, unfortunately, because no police officer sets out to execute a citizen…..I have seen on social media and… in black and white language which says in a very strong way that there was some semblance of execution," he noted, before adding, "…but I will tell you, the Guyana Police Force with the strides we have made, the capacity and capability building that we have done in the last years, no officer sets out to execute anyone."
He did note that some of the ranks were very highly trained, including a few who had superior firearms training than the average policeman and which they utilised.
He also said it was not the first time a customer would have left a bank and ended up along the seawall. "It's not a novelty that happened on that day in question," he pointed out.
In the coming days, he said more operations are expected. According to Ramnarine, "sting operations are what you would call increasingly needed these days in law enforcement, so we will continue along that lane."
He added, "Fortunately, for law enforcement, based on information, based on surveillance, based on intelligence gathering, based on public trust, based on public support, we have been able to put a dent to what was seemingly being referred to, regarded as a gang that was operating and was intending to create more havoc or mayhem in terms of robbery under arms where vehicles are hijacked and people are shot and so on."
'Not the church going type'
The families of the dead men previously told Stabroek News that they are not buying the police's account of what occurred and vowed to leave no stone unturned as they seek answers.
"We are asking for a complete inquiry as to how and why he was killed," Assanah's wife, Claire Assanah had said. "He is not this person that they are saying. He has no criminal record, since we have been married, since we have been together. I have not bailed him out from any prison… or anything. He doesn't have a criminal record. He doesn't," she maintained.
Ramnarine yesterday said that despite Assanah's lack of a criminal record, it is indisputable that he was at the crime scene with the other two men. "He [Assanah] may have been impeccable, spotless, stainless, faultless but did we plant him with the other two who met their demise? Did we put him there? No one has disputed that he was there," he said.
He stressed that the ranks acted in conformity with the law. "They [the police] were fired upon and as law enforcement officers… are authorised to use deadly force as long as the deadly force is justified, as long as the deadly force is legitimate, to defend themselves," he said.
"Are those policemen in the situation they found themselves in expendable? Come on, we must be real. We have to applaud what happened," he added.
The Guyana Police Force, through its Public Relations Department, had issued a statement describing the three men as "trunkers," while noting that each had a criminal record, although it was later acknowledged that Assanah did not have a record.
As it relates to this error, Ramnarine said he would not 'hang' his Public Relations Department for the error but he has since warned it to be more cautious in the future.  "I would not hang the Public Relations Department or the officer out in the cold but I have chided him to be a little more circumspect," he said.
Additionally, he noted that Assanah's lack of a record does not say that he would not have been under the microscope of the police in the past. "He is by no means the church-going type based on the information we have," Ramnarine declared.
Around the Web