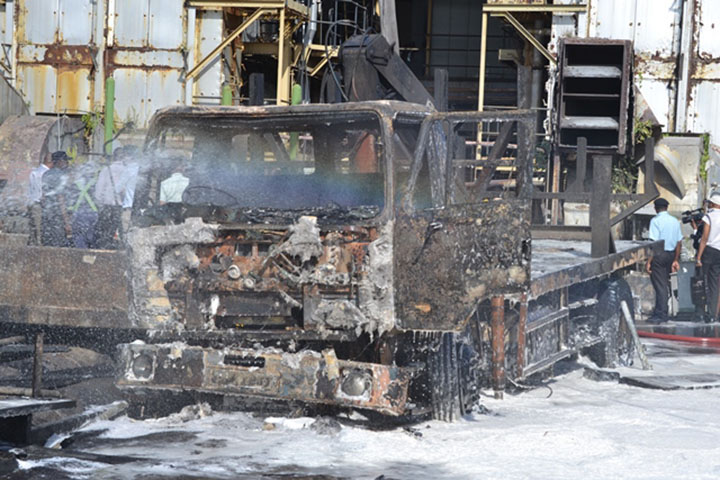 Workers of Power Producers and Distributors Inc (PPDI) and the Guyana Fire Service (GFS) yesterday managed to contain and put out a fire in the Guyana Power and Light Inc (GPL) Kingston power plant compound.
The fire, which started sometime after 2 pm, destroyed a truck and a holding area close to a large fuel tank at the rear of the facility.
Stabroek News was told that the fire started as a worker was doing welding work on the truck.
Fire Chief Marlon Gentle said that after being alerted, the GFS immediately deployed five fire tenders and a foam-laden vehicle.
"When they got here, they encountered a truck on fire and the fire had already spread to a holding area that contained Bunker C fuel or some type of fuel. We were able to contain the fire, using our resources as well as the in-house firefighting resources of the company," he explained.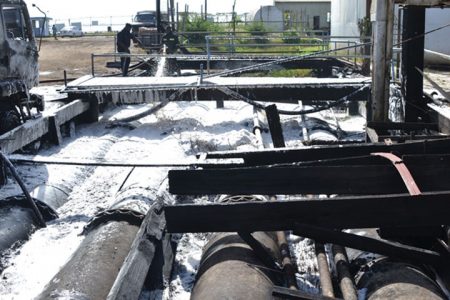 According to Gentle, periodic drill exercises in the past proved to be useful for workers and fire fighters, who were able to respond and take control of the situation. "Definitely, this was not a rehearsal but we were able to do a proper response, a timely response, at this facility," he added.
Gentle said they managed to put out the fire and prevent it from spreading, particularly with the use of the foam generating machine.
"We are using high-expansion foam that cools and also smothers the fire and it's also good for hydrocarbons," he noted.
He added that apart from the truck being damaged, it was observed that a few pipes and connections to the generation plant were damaged.
A PPDI official told reporters when approached for a comment, that all questions must be directed to GPL officials. PPDI manages GPL's power plants countrywide.
No statement was issued by the company on the fire. The fire did not cause any power outages.
Around the Web