Three employees of the New Building Society were today released on self-bail after being arraigned before a Georgetown court on eight counts of unlawful confinement alleged to have occurred at its main branch.
NBS Director Anil Kishun along with employees Anil Beharry and Deka Tularam, appeared before Magistrate Fabayo Azore when they pleaded not guilty to the charges read.
It was alleged that on January 23rd, at NBS' head office on Avenue of the Republic, they wrongfully confined Shawn Kalicharan, Alex Greene, Goodish Singh, Patrick Higgins, Martin Browne, Gina Arjoon, Ganesh Hira and Joseph Allen "from proceeding beyond certain circumscribing limits, that is to say, out of the building".
Media and other members of the public not involved in court matters were barred from entering the courtroom this morning although no explanations were given.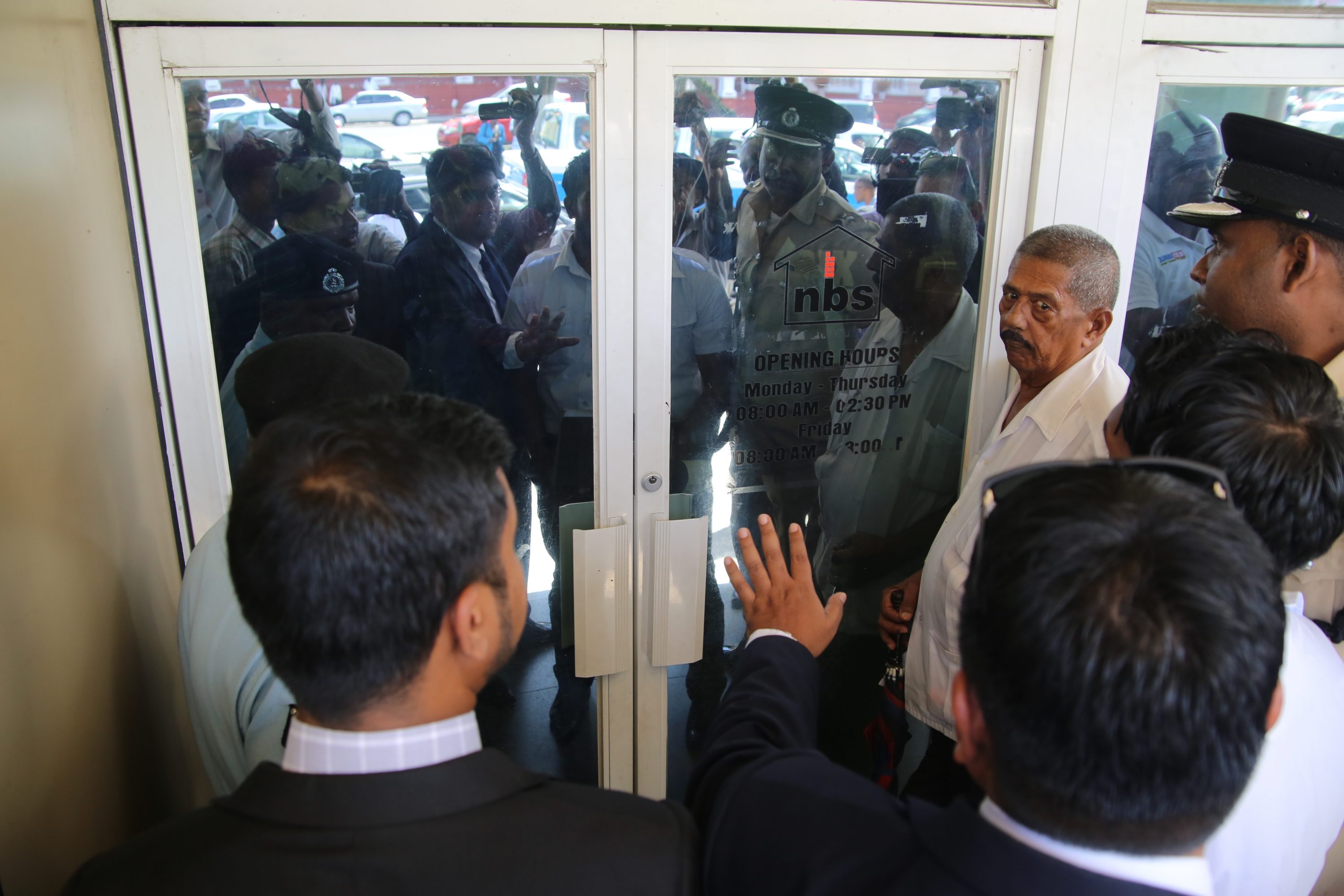 The matter has been adjourned to March 28 and transferred to court 6, where it will be heard by Magistrate Dylon Bess.
As previously reported by this newspaper, on January 24, a judgment was issued by the High Court for NBS to award its former CEO Maurice Arjoon for $59 million in pension, after he was wrongfully dismissed by the bank.
The man's attorneys descended on the financial institution to execute the levy to recoup the sums to which he is entitled.
A marshal and policeman who had turned up to execute the levy succeeded only in removing one vehicle from the compound, before being hindered by the bank which immediately shut its doors and gate.
As a result, customers transacting business at the time were locked in, and denied exit, while customers wanting to get in, were denied entry.
Among the persons in the bank at the time, were the police and marshal who turned up to execute the levy, along with one of Arjoon's three attorneys.
By the end of the six-hour standoff, the bank wrote Arjoon a cheque for $59,033,281 worth of pension it owes.
The bank in a statement, however, rebuffed claims of ever holding anyone against their will, stating that no order was produced to effect the levy. NBS' claim is that its facility was stormed by unidentified individuals and employees thought a robbery was about to occur.
Around the Web