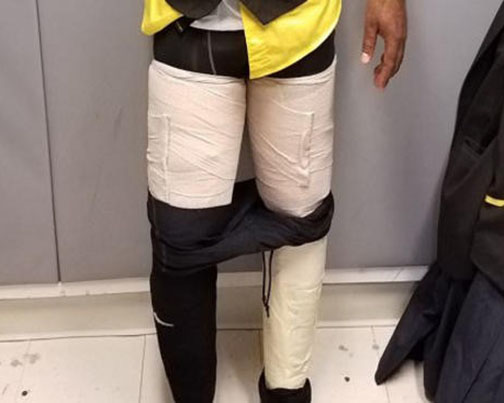 Fly Jamaica Airways crewmember Hugh Hall was caught with US$160,000 worth of cocaine taped to his legs after a flight, according to NBC news in New York.
Hall arrived at JFK on March 17 on a flight from Montego Bay and presented for inspection, Customs and Border Protection said in a statement.
He was taken to a private room, where officers found four packages of white powder taped to his legs. The packages, nine pounds in total, later tested positive for cocaine.
Hall was detained for importation of a controlled substance.
According to mcclatchy.com, Leon Hayward, Acting Director of U.S. Customs and Border Protection's New York Field Operations, said it was an example of "officers being ever vigilant in protecting the United States from the distribution of illicit drugs."
Hall faces federal narcotics smuggling charges, authorities said. His case will be prosecuted in the U.S. Eastern District Court of New York.
Fly Jamaica is likely to face penalties over the discovery.
Around the Web