Even as he posited that Guyana was unequally matched in negotiations with ExxonMobil and other multinationals, British Professor of Economics and Public Policy, Sir Paul Collier last evening cautioned against pulling back the contract with the US company and affiliates, saying it can spell doom for Guyana's investment climate.
Instead, he said that now it is established that there is oil and more companies are seeking to invest, Guyana should endeavour to extract  better terms on future contracts while simultaneously building capacity to scrutinize what they all will pay in taxes.
"What would be absolutely disastrous is tearing this contract up. If you tear this contract up, nobody else will come. That is the brute reality," the Professor of Economics and Public Policy at the United Kingdom's Oxford University's Blavatnik School of Government told a panel of reporters during an interview and discussion session at the Pegasus Hotel.
"Governments have to establish credibility over the contracts they sign and if the first contract you sign you tear up within a couple of years of signing it, you're dead. Credibility is vital," he added.
Sir Paul led a group of international researchers and petroleum policy advisors in meetings yesterday with Cabinet ministers to discuss the emerging oil and gas sector and give insight into prudent preparations for the revenues that will be generated from the industry.
Following that caucus, which was held at State House, the Professorial Fellow of Oxford's constituent college – St Antony's College sat down for a panel discussion with media personnel.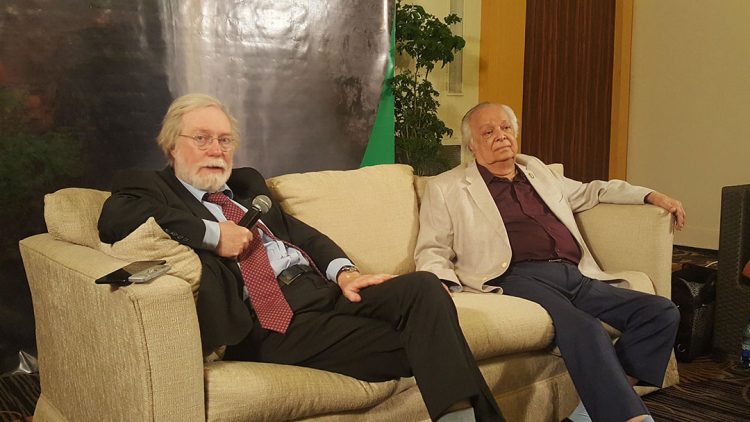 He pointed out that discussions were not held at the Cabinet caucus on the actual Production Sharing Agreement (PSA) but from his knowledge of what it entails, the country "got a reasonable contract".
The deal struck between Guyana and ExxonMobil's subsidiary, Esso Explora-tion and Production Guyana Limited (EEPGL) has been pilloried for shortchanging Guyana in terms of royalties and other fiscal features.
"You tend to get, with the first deal; a company that comes in and does business [that] is not as good for you as the second because the first come and shows that there is oil there. Then others will come in and want a piece of the action. So the second deal you would get would be better than the first, and the third better than the second," he posited.
"You use this as an opportunity to get some more licences over the next three, four years and get some other operators in. If that is the game plan that is good, but if you tear this contract up, nobody else will come. That is the brute reality…it might as well be your first and last contract," he added.
'Don't assume'
He informed that he told Cabinet that strict oversight measures will be needed to monitor the accuracy of tax and cost submissions and that the country is collecting its due. He also said that capacity building needed to be addressed.
"Don't assume that you can just trust them to pay the right amount of tax. They don't," he said as he gave an example where a Nigerian Finance Minister had the books of oil companies in that country audited for the first time and discovered that about US$350M was owed.
"Build a specialist team that monitors the taxes. You monitor it," he implored while pointing out that a large number of persons was not needed to have an enforcement structure. He pointed to Norway where only about 40 persons are part of the tax enforcement body. "You don't need a big team… you don't need as many as 40 to learn the intricacies of the industries," he said.
ExxonMobil's taxes will be paid by Guyana in a highly criticised provision of the 2016 PSA with EEPGL. Observers say that the cost oil assigned to the venture will be where scrutiny is most important.
Sir Paul said that when he advises governments on fiscal measures to be taken, scrutiny of spending was an important factor given that in most cases the governments are not equally structured in comparison to the companies they are doing business with. "They have 700 lawyers you have got two. I don't pretend that it is an equal structure," he said.
Sir Paul believes that the current system where Exxon will recover costs over a period is good for the country since there will be no huge bonanza early on as this could result in the squandering of the needed revenues.
"The company is going to recover its cost fast. The first four years or something…I think that is sensible for you. You might think you can spend a whole lot of money right away. You can't straight away. This gives you a bit of time to get the rules in place, establish good institutions and then in another three to four years have a gradual buildup. That I think actually suits you well. There are quite a lot of examples out there where natural resources have been a tragedy so be careful because you know there is a downside to this," he said.
And underscoring the role of the media in informing even as they help to edify the populace about the new oil sector, Sir Paul stressed that when systems and institutions are put in place, the nation needs to get the details of their functions and objectives and the role they play in scrutinizing them.
"You certainly need some institutions which can be long term which have a sense of purpose and good checks and balances and you need both. You need checks and balances to scrutinize both. Getting public officials to understand a sense of purpose. They will periodically come under attack you need to build a critical mass of citizens in the society who understand why oil rich countries need distinctive institutions which manage that money and defend those institutions. You can do that. It is not what I say it is what people like you write. It is a long-term struggle but a winnable one," he said.
At yesterday's session, President David Granger underscored the need for Cabinet to be au fait with the organising and executing structure for managing oil resources.
"As a Government and as population as a whole, we have to take a sober approach to the exploitation of this valuable resource. We need to create the organisation, the structure that will manage this resource and even now, as I speak, we are in a state of transition. When the Government came into office in May 2015, it was literally at the same time, almost at the same date, that the announcement of the petroleum find was made. So, we are still putting in place an organisation that is capable of managing this resource and that is one of the reasons why we need this type of advice," a Ministry of the Presidency (MoP) release quoted him as saying after the meeting with Sir Paul and his team at State House.
According to MoP, Granger pointed to the need for legislation and strong oversight institutions to protect citizens from the adverse aspects that could flow from the exploitation of this resource.
"We need to mobilise, not only national will, but national resources. This is going to be the single largest industry in Guyana. As a country of just about three quarters of a million people, we need to ensure that our resources are mobilised so that every Guyanese understands the importance of petroleum… We have to protect the rights of investors by establishing the institutions to ensure that there is no abuse or misuse of this resource. Without the institutions, without the judiciary, without the oversight by the National Assembly and without prudent management by the Executive, much of what we are attempting to do will fail," he said.
For his part, Minister of Natural Resources Raphael Trotman, whose ministry facilitated the group, told Stabroek News that yesterday's session was informative and knowledge building and was just one of many, in the dialogue and discussion processes his ministry has planned.
"Today went well as it helped to infuse a much needed dose of confidence in our work and it tells us that the likes of Sir Paul Collier would not lend their credibility to a directionless and inept process. We are happy with the open and frank discussions that took place and even happier to learn that the challenges we face are exactly those that other countries faxed when they made discoveries of resources.
We hope to continue the process of dialogue and discussion as we build national capacity and as we establish the Department of Energy," Trotman said.
Around the Web